Hannity Guests Get In Shouting Match Over Whether Obama Deserves Second Term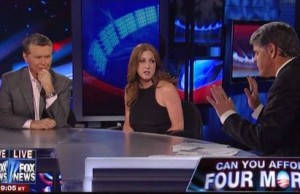 On his show tonight, Sean Hannity brought up the latest jobs numbers and what it means for the presidential race. Guests Bill Cunningham and Leslie Marshall spent a good portion of the segment shouting over each other about job creation, outsourcing, and whether President Obama deserves a second term.


RELATED: Malkin Slams Obama's Supporters: Romney Supporters Sign Front Of Paychecks, Obama's Sign The Back
Hannity said that during the presidential campaign, Obama has held over a hundred fundraisers but has never met with his jobs council once. He highlighted Jay Carney's explanation that the president has "a lot on his plate," and asked how anyone could seriously explain that to the American people. Marshall said that if Romney wins in November, four years from now he would have to campaign just like Obama is and attend many fundraisers. She also noticed no big shift in the polls due to any of this, suggesting it doesn't really matter that much to voters.
Cunningham argued that if John McCain was in the White House now, liberals and union groups would be marching on Washington asking "Where are the jobs?" He told Marshall that "because it's your guy, you roll over and play dead."
"You sit there like a stooge for the left, pretending as if this guy's doing a good job when you know, behind those cute eyeballs of yours, this guy's not getting the job done, you know it."
Marshall brushed aside Cunningham's "flattery" and asserted that it is not the job of the president to directly create jobs. She asked Cunningham and Hannity why they don't just call up their "rich friends" and ask them to create more jobs "here, instead of in India." Cunningham shot back by claiming that Romney had a "75 percent success rate" in creating private sector jobs. He and Marshall then fought over which candidate is more to blame for outsourcing.
In the midst of their argument, Marshall said, "If we had a chick in the White House, we would have more jobs."
Hannity argued that Obama has had all of his policies implemented in the past four years and asked exactly when it would be appropriate to start blaming his policies for the state of the economy. Marshall acknowledged that Obama does hold some responsibility, but said she hasn't heard a "better alternative" from the GOP. When she asked why the Republicans haven't been cranking out all sorts of jobs bills in Congress, Cunningham said it's because of the narrow Democratic control of the Senate.
Cunningham and Hannity pushed Marshall to explain why Obama deserves a second term given the current state of the economy. Marshall pointed to the passage of the Affordable Care Act, and when pressed further by the others, said that Obama offers a better economic plan for the next four years than Romney.
Watch the segment below, courtesy of Fox News:
—–
Follow Josh Feldman on Twitter: @feldmaniac
Have a tip we should know? tips@mediaite.com
Josh Feldman - Senior Editor