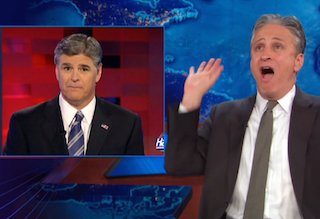 Jon Stewart and Sean Hannity have spent all week feuding. First, The Daily Show host went after Hannity for defending rancher Cliven Bundy. Then, Hannity called Stewart a "comedic hack" on his Fox News show. And after that, Stewart came back even stronger than before, labeling Hannity "the Arby's of news." And that was all before Bundy was captured on video sharing his thoughts about "the Negro."
But on his radio show today, Hannity revealed a softer, gentler side. Not only did he condemn Bundy's comments about blacks being "better off as slaves" as "beyond repugnant," but he also spent a few minutes heaping praise on his supposed nemesis Stewart.
"I love –" Hannity said before correcting himself. "I think Jon Stewart is extremely talented and funny. I don't know, I must be missing the chip because some of my friends said 'Hannity he took you down last night.' And I said, 'Yeah, it was pretty funny, I laughed.'"
As a "proud conservative," he said he has laughed at every bit Stewart has done on him, including the most recent ones. But even more than those, he said he liked the "hilarious" bit Stewart did in January that included the cast of Broadway's Jersey Boys urging him not to move out of New York City.
"Do his writers and editors distort what I say? Of course they do," he added. "I only wish he would do similar bits on Obama and democrats. Imagine the bits he could do on the health care lies, or Benghazi. Or the IRS lies."
But even if he keeps doing segments on Hannity, the host said he didn't mind because it would only raise his profile. "There's no such thing as bad press," he concluded.
For the record, Stewart has done segments on Obamacare, Benghazi and the IRS that were critical towards Democrats, not to mention an incredibly tough interview with Health and Human Services Secretary Kathleen Sebelius. They may not have gone as far as the material Hannity produces night after night, but you can't say The Daily Show is entirely one-sided.
Listen to audio below, via WSB Radio:
[photo via screengrab]
— —
>> Follow Matt Wilstein (@TheMattWilstein) on Twitter
Have a tip we should know? [email protected]