Hannity: If Chris Dorner Liked Conservative Hosts Instead Of Liberal Ones, The Media Would Go Nuts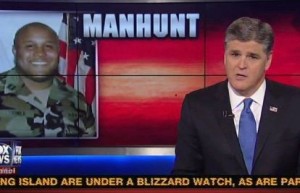 The manifesto written by murder suspect and LAPD office Chris Dorner contains some bizarre ramblings about how much Dorner loves media personalities like Chris Matthews, Piers Morgan, and Ellen DeGeneres. Sean Hannity tonight noticed that these details have gone largely unreported in the media, whereas if he had been a fan of right-wing TV hosts, the liberal media would have been eager to report on it to death.
RELATED: Murder Suspect Chris Dorner Praises And Attacks Cable News Personalities In His Cop-Killer 'Manifesto'
Hannity pointed out how Dorner is a big fan of liberal politicians and celebrities, while finding the NRA a deplorable organization. Hannity remarked, "don't expect to hear much about this on liberal news outlets," since Dorner appears to be a fan of networks like CNN and MSNBC. Hannity brought on Media Research Center president Brent Bozell to take on the media coverage, or lack thereof, of the manifesto.
Hannity said right away that if Dorner had read any books by conservatives like himself or Ann Coulter, "this would be big news" and people would claim Dorner was inspired by conservative pundits. Bozell made it clear that the liberal media figures name-checked by Dorner are not in any way responsible for the horrific things he did, but said the same should have applied to deranged individuals individuals the media tried to link to right-wing causes and pundits.
Hannity highlighted examples from ABC's Brian Ross erroneously connecting the Aurora shooter to the Tea Party all the way to connections between Gabrielle Giffords and the Tea Party. Bozell said that the liberal media would not dare to draw conclusions in Dorner's case, but were eager to pursue links to right-wing rhetoric based on absolutely zero evidence.
Watch the video below, courtesy of Fox News:
—–
Follow Josh Feldman on Twitter: @feldmaniac
Have a tip we should know? tips@mediaite.com
Josh Feldman - Senior Editor