Hannity, Ingraham Team Up Again for 2nd Straight Day of Bashing 'Arrogant' #NeverTrump-ers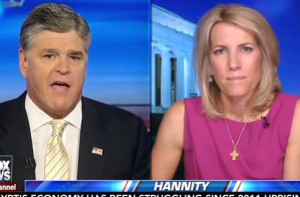 For the second straight night in a row, Sean Hannity brought Laura Ingraham onto his show to tear into #NeverTrump Republicans and declaring that they will be blamed for every single bad thing Hillary Clinton does as president.
Hannity spent the first 10 minutes of his show going after the mainstream media for being biased against Trump. He and Ingraham piled on the liberal press and how they're going after Trump and his supporters with such fierceness.
And then Hannity pivoted to the "arrogant, sanctimonious, self-righteous" chorus of Republicans refusing to back Trump.
RELATED: Sean Hannity is Melting Down Already Because He Knows He'll be to Blame For Hillary Winning
Hannity did not rebut any of the actual arguments those Republicans have made and instead insisted––as he has done for weeks without fail––that Trump is promising to implement a more conservative agenda than Clinton ever would.
Ingraham called them "sideline cheerers for Hillary Clinton" and warned them that her Supreme Court picks could potentially "wipe away any good reforms or good issues."
Hannity used the word "arrogant" again (just in case the message didn't get across already) and said they will "own" everything Clinton does.
Ingraham did not, however, repeat her claim from last night that to be a conservative and refuse to vote for Trump is "immoral." Conservative Ben Shapiro wrote a rebuttal to that argument on The Daily Wire (a site Hannity name-dropped minutes earlier, so he clearly reads it):
I have never made and will never make the argument that it is immoral for people to vote for Trump to stop Hillary. I understand that argument completely, and sympathize with it. But lying for Trump is immoral. Pretending his boo-boos aren't boo-boos is immoral. Pretending he's something he's not, and lying to your audience about it – that's immoral. And most of all, pretending that those who make a different risk-reward calculation from yours are immoral – even while those people hold supposedly similar principles – is immoral.
Watch above, via Fox News.
[image via screengrab]
— —
Follow Josh Feldman on Twitter: @feldmaniac
Have a tip we should know? tips@mediaite.com
Josh Feldman - Senior Editor