Hannity Interviews Elisabeth Hasselbeck, Praises Obama For Going On The View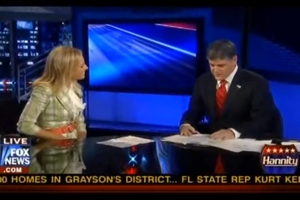 After sitting down with President Obama this morning on The View, co-host Elisabeth Hasselbeck visited Hannity to share her thoughts on the experience, and had plenty of positive things to say about the President– aside from his politics, that is. Somewhat surprisingly, Sean Hannity agrees– and praises Obama for choosing to appear on the program.
While Hannity did tell Hasselbeck he believed the president dodged some of her questions, he found it a positive thing to see Obama make history as the first president on a daytime TV program. "I am fully in support of [this]. I think this is a good thing," he noted. "The more we see our president, the better." That said, he also saw a contrast between the president's pleasant appearance on The View and his administration's rocky relationship with the right-wing media, telling Hasselbeck: "you are the only conservative who has had the opportunity to question the President." "I hadn't thought about that," she replied sheepishly.
Hasselbeck also had wonderful things to say about the Obamas personally, describing a conversation she had with First Lady Michelle Obama about raising children in the White House and addressing the need for keeping politics and personality separate. "These are parents," she told Hannity. "They are like us– wonderful citizens of this country. We just have differences in politics… we should be able to separate the person from the politics." But that doesn't mean there was no politics in President Obama's chat about Snooki and Lindsay Lohan on the program. "I think this is his first campaign stop for 2012," Hasselbeck predicted.
The interview below:

Have a tip we should know? tips@mediaite.com