Hannity & Malkin Bash Obama For Hypocrisy On Women, Candy Crowley For Biased Moderating
Hannity & Malkin Bash Obama For Hypocrisy On Women, Crowley For Biased Moderating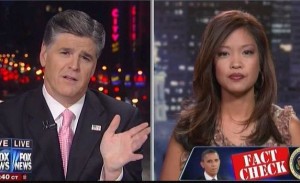 Sean Hannity and Michelle Malkin reacted to last night's presidential debate with amazement at how President Obama was trying to frame Mitt Romney as the anti-woman candidate, when, as they highlighted, the working situation for women in the White House have been the subject of some mild controversy. Hannity and Malkin also tore into debate moderator Candy Crowley for being biased in Obama's favor.
RELATED: Paul Ryan Clarifies 'Binders Full Of Women' Remark On CBS This Morning
Hannity brought up comments by former White House Communications Director Anita Dunn that women face a tough working environment in the White House, and under the Obama administration, women are paid less than men. Malkin said that if such things were happening under a Republican administration, it would be branded as "misogynist."
Malkin argued the Obama administration is "anti-woman" and called out both Dunn and Valerie Jarrett for "whining" about Obama administration treatment of women while working with the administration to attacking Romney for being anti-women. Hannity piled on, arguing that equal pay laws are already on the books and the Lily Ledbetter Act passed in 2009 only addressed the issue of lawsuits.
Hannity then turned to the issue of Crowley's moderating, claiming that she interrupted Romney far more than she did Obama. He said Crowley "falsely stated" what Obama said the day after the attacks on the U.S. consulate in Benghazi, and found it astonishing that CNN was defending her. Malkin criticized "CNN's woeful history of journalistic malpractice," and hit Crowley for only admitting she was wrong after the debate.
Hannity remarked that "anybody else would have been fired" for what Crowley did.
Watch the video below, courtesy of Fox News:
—–
Follow Josh Feldman on Twitter: @feldmaniac
Have a tip we should know? tips@mediaite.com
Josh Feldman - Senior Editor