Hannity, Michelle Malkin Trash Media 'Lapdogs' Finally Questioning 'Savior' Obama: 'This Isn't Going To Last'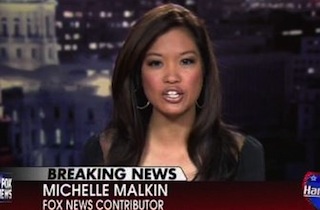 Michelle Malkin paid a visit to Sean Hannity on Wednesday night, responding to how the good ole lamestream media has been treating President Obama. While the pair acknowledged that many in the media have been critical of the administration, as it juggles scandals, they weren't impressed. After all, they agreed, it won't last.
Hannity seemed pleased that the "thrill-up-your-leg media" has finally started asking some questions — even if they are late to the game. "We dared to do the vetting that the media wouldn't do," he offered as contrast.
The media "lapdogs" are "finally clambering out of the lap of their savior," Malkin agreed, criticizing that those like her have been doing the job of asking tough questions for years. It was "patently obvious," she added, "that we would arrive at this exact place."
The newfound skepticism from the media was greeted by Malkin with only a golf clap, because "this isn't going to last." Hannity couldn't agree more, emphatically stating, "This is the only conservative news program in America. This is it."
Both he and Malkin reiterated the criticism of the administration, citing lies, cover-ups — and intimidation "this administration and its tyranny" direct toward those who dare to express dissent. The "incestuous" media/Washington relationship has gotten to the point where the media "cannot do their job any longer," Hannity charged.
"They do not have the capability of standing up for the people in this country," he added.
"Me, you, and the American public," Malkin replied. "We are doing the jobs that they have failed to do…we will not stand down."
Take a look, via Fox News:

Have a tip we should know? tips@mediaite.com