Hannity Panel Blasts Hollywood Hypocrisy: Celebrities Decry Gun Violence, But Star In Violent Movies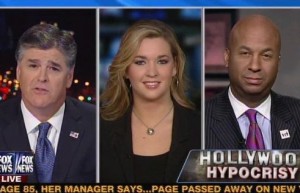 In the wake of last month's school shooting in Connecticut, celebrities released a PSA calling for action to be taken in order to seriously address gun violence in the United States. One video that's been a lot of play this week is a counter-video, a re-edited version of the PSA splicing footage of each of the celebrities in a movie or TV scene involving gunplay. Sean Hannity leaped on this as the latest example of Hollywood hypocrisy, and piled on the PSA with the panel.
RELATED: Al Sharpton: After Gun Control, We May Have To Deal With Knife Control
Democratic strategist Michael Brown said that even if these movies are violent, the vast majority of people who watch them are not driven to violence, and therefore this may not be a simple case of hypocrisy. Hannity said if Hollywood stars are going to "lecture" people on gun control and violent video games, looking at their own work is only fair game.
Townhall.com writer Katie Pavlich argued that Hollywood's contribution to the gun culture in the United States has been focused on "disrespect and violence," while making the point that many stars have armed guards surrounding them at all times.
Hannity suggested that some Hollywood stars and politicians are plainly opposed to the Second Amendment, to which Brown made it clear all people want is just "restrictions" on gun ownership. Hannity asked Brown point-blank if he would feel safer in Chicago with a gun on his person. Brown said he would prefer no guns on the streets, while Pavlich insisted that the vast majority of gun-owners are law-abiding citizens.
Watch the video below, courtesy of Fox News:
—–
Follow Josh Feldman on Twitter: @feldmaniac
Have a tip we should know? tips@mediaite.com
Josh Feldman - Senior Editor