Hannity Panel About Obama's Record Spirals Into Loud Bickering About Pretty Much Everything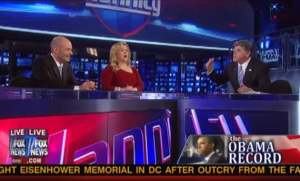 "Man up, put your pants on," Mr. President. Thus was Sean Hannity's message to President Barack Obama on Tuesday night, when he kicked off his panel with discussion about the president's media criticism during his Barnard College commencement speech. Beginning with telling Obama to hold himself accountable, the panel descended into a loud spat.
Responding to Obama's critical look at media sensationalism, Hannity said, "Somebody may want to remind the president, it is his administration that is responsible for a lot of those scandals." Calling Obama a "cry baby," he added, "Man up. Put your pants on, sit at the table. He got everything he wanted and he's blaming ATM machines that were created in the 1980s."
The discussion opened up to the panel, and Hannity was joined by Jennifer Stefano, a Tea Party activist, and Chris Hahn, a Democratic strategist. Hahn argued that every president has lamented that the media only covers bad news, including George W. Bush during his eight-year presidency.
Stefano interjected to express what she disliked about the speech in general. "When it wasn't smacking of the pulpit, it was smacking of paternalism and pretention," she said. Mocking Obama's "lecturing women," she said — after smacking down Hahn, saying she's playing her "gender card" — her favorite line was when Obama said women have to fight not just for a seat at the table, but at the head of it. "Mr. President, weren't you the guy who took out Hillary Clinton in '08?" she asked. "An under-qualified male got a job from a far more qualified, far intellectually superior female."
Amid Hahn and Stefano's loud banter of sorts, Hannity interrupted, asking to go through the issues slowly. He then pointed out that Obama had a majority for two years, during which he got everything he wanted including health care and passing his budgets. And now? No jobs and an additional $5 trillion in debt. But he blames everyone but himself, Hannity said.
With the mention of jobs, the panel again grew heated, as Stefano immediately pointed out the largest group of people dropping out of the workplace are women. She again criticized the way Obama addressed women during his address. Hahn responded that Stefano is very "entertaining."
Stefano asked, "Aren't we as Americans better than this? Better than what this president is doing?" The vehement disagreement over debt and spending led once more to increased volume from all sides, before Hannity noting they were out of time.
Hannity turned to Greta Van Susteren's preview of her show, only to find that Van Susteren was thoroughly amused when she put in her earpiece and hear the demand to put pants back on. Oh, cable news.
Take a look, via Fox News:

Have a tip we should know? tips@mediaite.com