Hannity Panel Attempt To Discuss Muslim Students' Complaint Against Catholic Univ.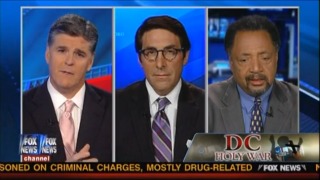 "So, is it a holy war that is being waged in our nation's capital?" That's a question Sean Hannity and his panelists attempted to answer Thursday night on Fox News.
Muslim students attending DC's Catholic University of America have claimed that their human rights are being violated by the school because it has refused to provide a space — free of Catholic iconography and paraphernalia — in which its Muslim students can practice their daily prayers.
RELATED: Megyn Kelly Takes Atheist Activist To Task Over Ground Zero Cross Lawsuit
To discuss the issue, Hannity invited on Ibrahim Ramey, Director of the Civil and Human Rights Division of the Muslim American Society Freedom (MAS Freedom), and Jay Sekulow, Chief Counsel of the American Center for Law and Justice (ACLJ).
As Ramey saw it, the students' complaint against the school is twofold: 1) There's the question of whether or not Muslim students can be accommodated in terms of being given a place to pray, and… I didn't catch the second point because Hannity interrupted.
Ramey later continued, adding that "it's not a question of the right of the University to be Catholic — absolutely it is a Catholic University — the question is…" And then another interruption by Hannity, who announced he was going to go to Saudi Arabia, walk into a mosque, and request a private room in which to put up a picture of Jesus and a cross.
"Don't get twisted," Ramey advised, "We're having a conversation about the United States of America."
Sekulow saw his chance to weigh on what, if any, legal merit the students' complaints may have. "Let's have a conversation about the Constitution of the United States," he began. "There is no requirement in the Constitution that can compel a Catholic University or any institution, for that matter, with a faith-based connection to change its doctrines, its practices, or its procedures and beliefs to accommodate a student of another faith." He added that the same holds true were human rights laws are concerned.
Ramey responded that Sekulow was "twisting the issue" by saying that the school was essentially being penalized for allowing the matriculation of students of different faiths. "I'm not arguing with the Constitution of the United States," he explained. "What I'm simply saying is that there is a better way and a more civil way and, in fact, a more accommodating way for Muslim students to be able to pray at Catholic University as they do at Georgetown [which is also a Catholic university]… as they do at Boston College, another Catholic institution, and…"
"Nobody is forcing you to go to the school," Hannity pointed out, noting that students have the option of pursuing their education elsewhere.
Sekulow then offered an example for Ramey: If a Muslim school permitted Jewish student to enroll ("If," scoffed Hannity.) and those students then asked the school to take down Muslim iconography put up a Star of David, what would happen? Ramey, again, insisted that this wasn't exactly the issue being discussed and pointed out that, for one, there's no such thing as Muslim iconography (which is part of the issue the Muslim students have with having representations of Jesus up in a room where they want to pray). He again attempted to define the twofold issue the students have with the University, but was this time interrupted by Sekulow.
Now, I'm more inclined to agree with Sekulow's take on the issue, but I would have wanted to at least hear what point Ramey was trying to make, you know? To borrow from a fellow Catholic: Lord, please, "grant that I may not so much seek to be consoled, as to console; to be understood, as to understand."
Have a look, from Fox News, and let me know what you think of their discussion and of the students' complaint:
This is an opinion piece. The views expressed in this article are those of just the author.