Hannity Panel Blows Up Over Zimmerman Trial: Jeantel's Testimony Destroyed Trayvon Image As 'Choir Boy'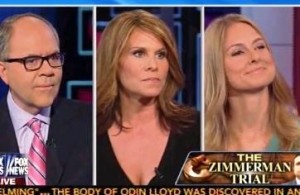 The George Zimmerman murder trial has, needless to say, been a source of some heated discussion on cable news. On , the host and Fox legal analyst Peter Johnson Jr. got into a shouting match with a guest over Zimmerman's defense and whether certain things like who pushed who first or who cried for help even matters to the jury.
The panel first took on Rachel Jeantel admitting she lied under oath about why she didn't go to Trayvon Martin's funeral. Johnson said this proves she is "capable of telling a lie even when she swears to tell the truth." Defense attorney Joanna Spilbor argued it hurts her credibility as a witness, while prosecutor Anna Sigga Nicolazzi said "you can still end up with criminal liability" when you consider the base of her argument. She also added that it doesn't matter for the prosecution's case "who pushed who first."
After the break, the panel broke down the difference in Jeantel's demeanor. Spilbor said her "bad attitude" hurt her credibility, and that her description of his character hurt the prosecution's attempts to paint Martin as a "choir boy." Nicolazzi said their only intention was to say he's a boy "minding his own business… when a man was following him."
Nicolazzi elaborated on it not mattering who punched first, since if Martin punched first, it could have been because he was "fearful of this guy who's following him!" She clashed with Hannity over whether the injuries are consistent with Zimmerman's story, and said that just because he may have been calling for help and Martin may have been "getting the better of [him] in a fight," it doesn't mean he can "take our your gun and shoot them."
Johnson quickly rebutted that you do if you think they're going to kill you.
Watch the video below, courtesy of Fox News:
—–
Follow Josh Feldman on Twitter: @feldmaniac
Have a tip we should know? tips@mediaite.com
Josh Feldman - Senior Editor