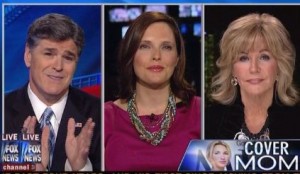 So by now, we've all seen the newest TIME cover. It features, rather provocatively, a woman breastfeeding her three-year-old son in order to get readers' attention about "attachment parenting" Sean Hannity called out the magazine for its sensationalist cover, saying that it "shows desperation in the media" that the editors went out of the way to "create a controversy."
RELATED: Mom Defends Controversial Time Magazine Breastfeeding Cover On Today Show
Hannity first questioned the whole idea of attachment parenting, though he made it clear he wasn't trying to be judgmental. Mercedes Schlapp explained that in many cases, mothers choose to breastfeed a child as long as they feel it is necessary. Hannity said that he's "very libertarian," but admitted he finds the whole practice odd.
Sandy Rios explained that while she is in favor of breastfeeding, she does have a big problem with the cover. She blasted it as "indecent" and argued that most places where children are breastfed up to five or six years old are "third-world countries." Schlapp defended it as a "mother's choice" and a "private matter," but then Hannity asked why a private matter should be plastered on the cover of TIME.
The rest of the conversation was basically Schlapp and Rios going back and forth about whether or not mothers should be allowed to make their own decisions about what they get to do with their kids. So Happy Mother's Day, everyone!
Watch the video below, courtesy of Fox News:
Have a tip we should know? tips@mediaite.com
Josh Feldman - Senior Editor