Hannity Panel Clashes Over Romney's 'Repudiating' Rev. Wright Attack Against Obama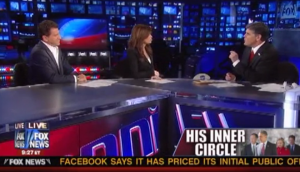 Should Rev. Jeremiah Wright be off limits during this general election campaign? Thus was the question Sean Hannity posed to his panel on Thursday night. Disagreeing with Mitt Romney's decision not to use Wright against President Barack Obama, Hannity pondered why we can't discuss the issue.
RELATED: Romney Strongly Criticizes Friendly Super PAC For Planning To Link Obama To Rev. Wright
Hannity asked whether Romney's "repudiating" the possible use of Wright against Obama was the right call. Joining him were Eric Bolling and Kimberly Guilfoyle. Echoing what he said in his radio show today, Hannity said he wants Romney to treat Obama the way he did Newt Gingrich and Rick Santorum. It did get "a little too mean" during the primary, he added, but went on to wonder, why has that changed now?
Guilfoyle agreed, saying she doesn't think Romney should ignore Wright, but that's it's likely the course of campaigning he'll stick with. "Too much is at stake," she said, arguing that Romney, who is passionate about this country has "got to fight for her."
On the flip side, Bolling said Romney's doing the right thing. "It's a different world now," he said. "Right now, things aren't good. The economy should be focus." He then noted that Obama "warned us" that he would fundamentally change America — and he has tried to, Bolling said, by "usurping" the Constitution.
Hannity agreed we should stay focused on the economy, but said it's too much for Romney to take Wright off the table. Bolling emphasized the need to "stay on the scoreboard," which, for Obama, "is epic failure." But, can't we walk and chew gum at the same time? Hannity and Guilfoyle said we can discuss the economy and national security, but also discuss Obama's character.
"You guys disagree on The View?" Hannity asked, referring of course to The Five (the program for which Guilfoyle and Bolling are co-hosts). Shock and awe.
Take a look, via Fox News:

Have a tip we should know? tips@mediaite.com