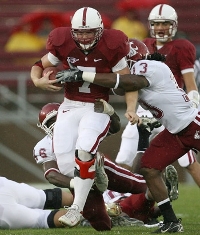 At the highest levels of football, running back is a position long held almost exclusively by African-Americans. Naturally, then, on the rare occasions a white star emerges at the position, it inevitably turns into a hot-button racial issue, with questions usually taking the general form of "Why aren't there more white running backs?" The white running back of the moment is Toby Gerhart, a Stanford product who has an outside shot at getting selected in tonight's first round of the NFL draft. The debate on race's possible role in Gerhart's public perception was enough for Sean Hannity to invite former NFL running back/CBS football analyst Spencer Tillman and sports pundit/loud person Stephen A. Smith on his show to debate whether race is hurting Gerhart's draft stock. Smith didn't think so, Tillman was worried it was. Video below.
The first highlight occurred before Hannity even introduced Tillman and Smith, when Gerhart's comments on being a white running back ("I'm just out there playing ball") and a scout's opinion on Gerhart ("If he was the exact same guy – but he was black – he'd go in the first round for sure") were displayed onscreen under the not-at-all hyperbolic heading "NFL DRAFT SHOCKER."
When questioned on race's potential role in Gerhart's career, Smith said, "I don't believe that [Gerhart's] not going to be a first-round pick because he's white;" rather, he believed that Gerhart's supposed 4.5-second 40-yard dash at the NFL scouting combine illustrated a lack of elite speed that will hurt him in the NFL. Smith repeated "4.5" several times throughout the debate, somewhat confusing first because the number is slightly inaccurate (Gerhart actually ran a 4.53 rather than an exact 4.5). Moreover, although for some reason the NFL's official scouting combine website doesn't list the time, a 4.53-second 40-yard dash would have placed Gerhart among the top 10 running backs at the combine, so it's tough to see what was so bad about Gerhart's time.
Tillman focused on the scout's comments, but in a dubious way. "We live in a world of images and impressions," he said, and Gerhart "is now like a minority who finds himself on the opposite end of discrimination." He called racism "prejudice plus power" and was worried about the implications of a scout, whose impressions of Gerhart do indeed have the power to impact the player's economic future, making comments like the ones Hannity highlighted. The problem is this: the scout wasn't denigrating Gerhart's ability based on race, but rather predicting that everyone else would. Saying Gerhart would be a first-round pick if he were black indicates the scout thinks Gerhart has first-round talent, but Tillman continued worrying that specific scout might pass Gerhart up because he's white, concluding, "I would love to know if that scout is on that team that passes him up."
It was an unsatisfying debate, with both Smith and Tillman sticking to their talking points even though they were both seemingly contradicted by facts, facts neither side pointed out. While the dearth of white running backs remains an interesting fact, one which probably has many different root causes based on both physical and sociological factors, last night's discussion on Hannity didn't come any closer to connecting the puzzle pieces.
Photo via
Have a tip we should know? tips@mediaite.com