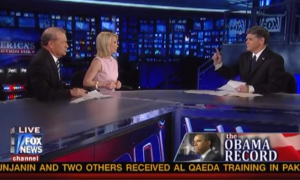 On his show Tuesday night, Sean Hannity sat down with Dana Perino and Stuart Varney to discuss President Obama's new campaign slogan, "Forward," as well as his record during his first term. Has he lived up to his promises? The panel concluded with a definitive "no," predicting that he's likely only to get one term.
The new slogan is the campaign's way of covering up failed policy, Hannity said — adding that it's borrowed from MSNBC, the network that aims to "Lean Forward." To tout "so-called accomplishments," he said, the Obama campaign released a "mundane" video. The panel then proceeded to fact-check it.
They began with gas prices, and Hannity noted gas averaged $1.84/gallon when the president took office versus $3.80/gallon today. That's not a success, the panel agreed.
Perino added that the video's "music is terrible." On a more serious note, she said the Obama administration cannot claim credit for the rise in U.S. oil production.
Next up: the debt. Which has risen from $10.6 trillion to $15.7 trillion. He's the first president to increase the debt by $5 trillion, Varney said. And come election day, it'll be around $6 trillion.
Hannity played a montage of promises the president made including comprehensive immigration reform, closing Guantanamo Bay, and cutting the deficit by half.
"It did not work," Perino said. She also said Obama's "open mic gaffe" spoke volumes about what the president would pursue in a second term.
Is only getting one term? Both agreed, yes.
Take a look, via Fox News:

Have a tip we should know? [email protected]