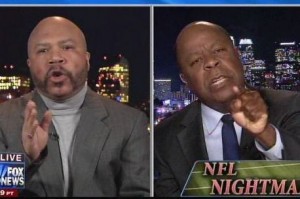 The murder-suicide concerning NFL linebacker Jovan Belcher has reignited the national debate over gun control, especially in the wake of commentary provided last night by NBC sportscaster Bob Costas. Radio host Leo Terrell and author Erik Rush appeared on Sean Hannity's show tonight for an incredibly heated segment on gun control. At one point, Rush got so frustrated with Terrell interrupting him he loudly begged Terrell to "please shut up!"
RELATED: Bernie Goldberg Defends Bob Costas From Conservative Critics On O'Reilly: They Should Be Agreeing With Him
Hannity opened by telling Terrell that O.J. Simpson, if you believe he killed his wife, didn't need a gun to get the job done. Terrell scolded Hannity for bringing up Simpson and said, "Shame on you!" Terrell defended Costas' social commentary and talked about the issue of gun control as it pertains to inner city life. Terrell said Belcher should not have had access to a gun, and when Hannity mockingly suggested he check his crystal ball, Terrell again scolded Hannity for "making a mockery of a very serious issue."
Rush decried the "fearmongering" and "histrionics" that always follow a high-profile case like this one involving firearms. He said the gun control rhetoric is coming from liberals who want to "disarm the public." Terrell interrupted him to call that a "complete lie," and Rush attempted to get Terrell to stop interrupting him.
After a small intervention by Hannity, Rush went back to arguing against new gun control laws, saying there are no studies to back up their potential effectiveness. Rush brought race into the equation, criticizing Terrell for being a black man on the side of big government. Terrell fired back, accusing Rush of being "used," and said he would keep shouting until his mic got cut off.
Terrell called Rush an "embarrassment," and Rush continued to yell at Terrell for interrupting him.
"Why don't you shut up?! Just please shut up! Just shut up! You don't know what you're talking about."
Watch the video below (but make sure you turn down the volume first), courtesy of Fox News:
—–
Follow Josh Feldman on Twitter: @feldmaniac
Have a tip we should know? tips@mediaite.com
Josh Feldman - Senior Editor