Hannity Panel On GOP Field: 'Not A Lot Of Talent', But 'Wildly Entertaining'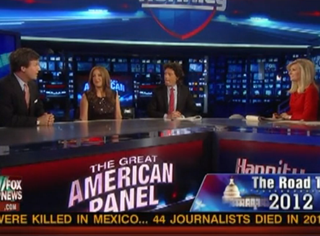 With the rise of Rep. Ron Paul in Iowa throwing the entire Republican 2012 field once again for a loop– and new polls showing Mitt Romney virtually tied with President Obama should he win the nomination, the vulnerability of the incumbent President is a question on everyone's minds, particularly against any specific candidate rather than "generic Republican." On tonight's "Great American Panel" on Hannity, the panel (led by guest host Monica Crowley) evaluated the chances of a strong Republican general election, despite the "scorched earth" campaigns going on today.
RELATED: A-Paul-calypse Now: Ron Paul Trails Newt Gingrich By 1 Point In New Iowa Poll
Tucker Carlson started off the conversation, noting that the numbers going up against the President among Republicans were indicative of a "tough primary season… these numbers indicate that they've been damaged." Leslie Marshall agreed, but for a different reason– that Republicans were being incredibly indecisive, independent of how the candidates were campaigning. On the other hand, Crowley contested this argument by contrasting this field with the 2008 Democrats. That process, she noted, was "totally scorched each… they went till June until Hillary Clinton backed off.
"What you're saying," interjected Bill Schulz, "is that Gingrich will be Romney's Secretary of State," calling it a risky bet. He then gave his own assessment of the field, comparing it to the NFL season. "A lot of people sticking around late in the game," he noted, a fair bit of prayer talk, and "even though there's not a lot of talent there, the personal stories are wildly entertaining. Also, Newt looks like a football."
RELATED: Report: A Third-Party Ron Paul Run Could Doom The GOP's White House Hopes
Carlson, bringing the conversation back from the Gingrich/sports item comparisons, argued that the weakness of the Republican field would not matter if the election is a referendum on President Obama. However, "if it becomes about the personal foibles, whatever they may be, of the Republican candidate," the President stands a chance, and so Democrats want the Republican "who is easiest to parody, who has the most complicated personal life." Marshall put a name to this threat: Newt Gingrich.
The segment via Fox News below:

Have a tip we should know? tips@mediaite.com