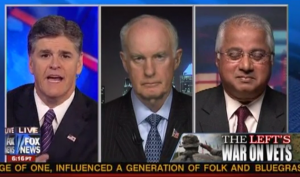 On his show Tuesday night, Sean Hannity took note of Chris Hayes' controversial comment over the weekend, in which he said he was "uncomfortable" calling those in the military "heroes" (he later apologized). The panel collectively agreed that Hayes was wrong, and that an apology was in order — while also noting that there should be more outrage about the issue.
Hayes' comment was:
"I feel… uncomfortable, about the word because it seems to me that it is so rhetorically proximate to justifications for more war. Um, and, I don't want to obviously desecrate or disrespect memory of anyone that's fallen, and obviously there are individual circumstances in which there is genuine, tremendous heroism, you know, hail of gunfire, rescuing fellow soldiers, and things like that. But it seems to me that we marshal this word in a way that is problematic. But maybe I'm wrong about that."
Michael Ghouse, of the America Together Foundation, defended Hayes' right to express his opinion, but noted that Hayes' opinion is wrong. "He made a big mistake," Ghouse said. "But I have to defend him for one reason." That being the freedom of speech. Even though he is wrong, we "should honor his opinions." Hannity said the issue is the mentality on the Left that has "seemingly contempt and a lack of understanding for the price that has been paid for them on NBC News to make one idiotic, stupid statement after another." The freedom comes from the people he's reluctant to call heroes, he said.
RELATED: MSNBC's Chris Hayes Feels 'Uncomfortable' Calling Fallen Soldiers 'Heroes'
Lt. Gen. Thomas McInerney called Hayes "a jerk." Those in the military don't make the decision about going to war, he said. Political leaders do. "They are heroes in anybody's book," he said. They are why we're a great nation, he said, not because we have "scumbags" that MSNBC puts on the air.
Ghouse and Hannity then clashed as Ghouse brought up Abu Ghraib and incidents that portray the military in a bad light. Hannity countered with war successes, criticizing the mention of "isolated" incidents. Ghouse did say Hayes owes an apology, agreeing with McInerney that military members don't make the political decisions.
Hannity further criticized Hayes for only issuing a written apology, not going on the air. He and McInerney agreed that we ought to be outraged.
Have a look, via Fox News:

Have a tip we should know? tips@mediaite.com