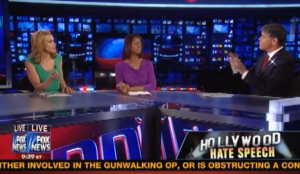 Paired with the chyron "Hollywood Hate Speech," Sean Hannity's panel on Tuesday night took on Cher for her charges of racism against Republicans. It's about his record not his race, Hannity argued, drawing mixed responses from his panel — with lack of kind words for Cher seemingly their only common ground.
Hannity began with a clip from Cher's recent appearance on Randi Rhodes' radio show. Asked about the hatred from Republicans, Cher said there's "definitely" a "component of racism in it." Republicans "just thought that they were going to be able to be in office forever," she said — and not only did that not happen, but "they dot thrown out and they got thrown out by a black man," which is a "stumbling block they won't be able to get over." Pointing to the lack of diversity at their events, Cher deemed it "50 shades of white."
Contributor Tamara Holder dismissed Cher as an entertainer who's "like a hundred years old," but nonetheless agreed that there have been some racist components. Peeved, Hannity quipped that the critics couldn't possibly be knocking Obama for his record regarding the deficit or the economy; it must be racism.
Deneen Borelli chimed in, observing that the bottom line is that Obama "is going down" as a result of his "deplorable" policies. Thus, she said, we have these people playing the race card, trying to divert attention away from the sinking ship that is his administration. It's "a last ditch effort because they have nothing else to say."
Holder then attacked Mitt Romney for outsourcing jobs during his Bain Capital days, with Hannity countering that Obama has not created a single job. Much of the remainder of the segment then consisted of Holder and Hannity arguing back and forth over whether Romney taking contributions from corporate leaders is any different from Obama taking contributions from the likes of Bill Maher.
Reiterating her point, and calling Maher "a washed up" comedian (which Holder didn't take kindly to), Borelli said, "We will hear more and more about the race card as we get closer to the election."
Take a look, via Fox News:

Have a tip we should know? tips@mediaite.com