Hannity Panel Takes On Lawmakers Charging Sen. John McCain With Sexism, Racism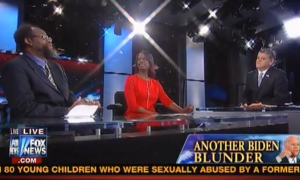 Sean Hannity's panel on Monday night took on those who criticized Sen. John McCain's vowing to block a potential nomination of Ambassador Susan Rice for Secretary of State. Pointing to those who charged McCain with sexism and racism, the panelists questioned the role of such "fear" tactics.
Hannity began by pointing to comments from some members of the congressional black caucus, including its chair Rep. Martha Fudge, who said there's a "clear" sexism and racism in McCain's unrelenting criticism of Rice.
Deneen Borelli argued that the assertions of sexism and racism helped President Barack Obama get re-elected, and this is just more of the same. But "this is all about credibility and accountability of Susan Rice," she said. "She should've known better. She misled the American people — and now we have those on the left who are trying to make this about race when in fact it has absolutely nothing to do about race."
The New York Civil Rights Coalition's Michael Meyers sought to directly respond to the lawmakers of the "congressional black choir" who criticized McCain. "They sing the same old song, the same old siren song," Meyers argued. "I am so sickened."
It's a fear tactic, Hannity said. And it's recurring because it works. Borelli added that the congressional black caucus would do better to demand an investigation, while Meyers found the idea of such a caucus in today's day and age to be "offensive."
With that, the panel pivoted to Vice President Joe Biden who recently referred to himself as a "homeboy," during a trip to New Jersey (during which he surveyed the damage caused by Hurricane Sandy). All three agreed that politicians like Obama and Clinton speak differently when speaking to a predominantly black audience, and that such "pandering" is "insulting."
"But that blacks and the Latinos, they love it," Meyers said. "They love when people come and talk down to them."
"It's all about pandering and trying to get that vote," Borelli chimed in.
Those lawmakers in the congressional black caucus, they're the ones being racist and sexist, Meyers argued.
Watch below, via Fox News:

Have a tip we should know? tips@mediaite.com