Hannity Panel Uses Akin Controversy To Slam Left's 'Double Standard' In Accountability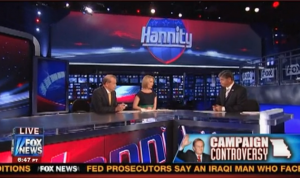 On his show Tuesday night, Sean Hannity invited Dana Perino and Stuart Varney to weigh in on the latest developments in the controversy surrounding Rep. Todd Akin. Namely, his refusal to drop out of the Missouri Senate race. While all three encouraged Akin's exit, they went on to draw a contrast between the left and the right when it comes to accountability, criticizing what they called a double standard.
RELATED: Hannity Confronts Akin For Not Stepping Aside: 'Your Political Interests Are Above The Party?'
"He seems delusional," Perino concluded bluntly, in a discussion about Akin's refusal to step out of the race. "He made a terrible mistake," Hannity chimed in, noting that he accept's Akin's apology and thinks "he misspoke." But staying in the race simply isn't a smart choice, he said.
Varney agreed, and said that Akin "knows he stakes" — a point Perino disputed, pondering whether Akin's political consultants might also be driving him to stay in. "But it's not the right thing to do," she said.
To that point, Hannity said, "The conservative movement is more important than any one person. If it was me, and I thought I could potentially hurt Mitt Romney and Paul Ryan in defeating Obama, I would step aside."
He went on to criticize the double standard he said exists when it comes to accountability. "Isn't it great that the right has standards?" Perino asked. "And we hold people to that account."
Meanwhile, Varney said, liberals can say what they like and not have to resign. Pointing in particular to Vice President Joe Biden, Hannity said, "Democrats can say anything."
Take a look, via Fox News:

Have a tip we should know? tips@mediaite.com