Hannity Panel Warns Of Big Government Stealing Woodpeckers From Little Girls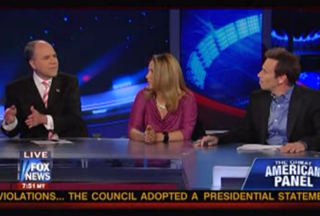 The Nanny State vs. Little Kid Lemonade Stand libertarian tale of woe is by now a well-known summer staple, but have you heard the one about the government stealing a little girl's woodpecker? On tonight's Hannity, host Sean Hannity scared his panel with a tale of Big Government coming to the door of a small girl who saves a woodpecker about to be eaten by a cat, because the bird is an endangered species.
"A little girl sees a woodpecker about to be eaten by a cat," Hannity told his panel, explaining that "a Fish and Wildlife person stops her– it's an endangered species." Two weeks later, Hannity notes, the police come to her door to take the bird. "No!" exclaims panelist Peter Johnson in horror. The "nanny state" discussion was slightly derailed by panelist Paul Mercurio noting that "woodpeckers are delicious," and Johnson suggesting that "maybe she can get a ticket for messing with natural selection" by saving the woodpecker from becoming cat food. But panelist Kerry Picket brought it back with the lemonade stand talk. "It's about regulation and it's about the new paradigm of government," Mercurio added.
This triggered Hannity to note that Obamacare, and the providing of birth control through such a program, was another symptom of a government too large for its own good. "If you choose to get in a car and start making out and taking off one item of clothing after another, why should I pay for your birth control?" he asked.
Hide your woodpeckers– the segment via Fox News below:

Have a tip we should know? tips@mediaite.com