Hannity Panelist: Obama Response To Hoffa 'Like A Piano Player In A Whorehouse'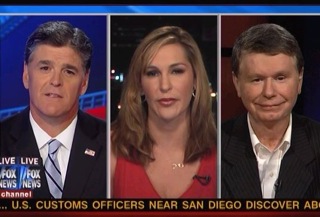 As the media rolls into the second straight day of evaluating the offensiveness of Teamsters Union leader James Hoffa calling Tea Party members "son-of-a-bitches," the reaction from the White House has become the focus of the debate. On tonight's Hannity, host Sean Hannity and guest Bill Cunningham argued that the problem was not in the statements, but in the "hypocrisy" that comes from calling for civility and ignoring Hoffa's remarks.
In a fiery debate that reached its zenith when talk radio host and Hannity-approved "great American" Bill Cunningham argued that he had no problem with the bad language, but President Obama's reaction to it was "like a piano player in a whorehouse." But before getting to that point, it was up to fellow panelist Tamara Holder to put up a fight in Hoffa's defense, arguing that his passion was legitimately conveyed given the dire situation of labor in the current economy. The argument didn't quite convince either Hannity or Cunningham.
"As a conservative, I like red meat, bloody debate," Cunningham noted by way of disclaimer, adding that the problem he had with the comments was the "lecture" the President gave the right for similar rhetoric. "Obama is like one of those guys holding coats as two people begin to fight, pretending he has nothing to do with it," he argued. Holder didn't buy it: "Who cares about the double standard?" she retorted, instead demanding an alternate solution to the economy.
It wasn't until Cunningham reiterated his initial point about the guy holding the coats that the debate got its most contentious, however, as Cunningham put it in other terms: "the President sends out the apostles to do his work and then acts like a piano player in a whorehouse," to which a confused Holder replied, "this has nothing to do with prostitution!" Despite Cunningham's assertions that he didn't "mind if an old trusty truck driver like James Hoffa uses bad language," Holder chided him for his at the conclusion of the debate.
The segment via Fox News below:

Have a tip we should know? tips@mediaite.com