Hannity 'Praises' Matthews For Criticizing Pres On Scandals, Despite 'Wetting His Pants At Sight Of Obama'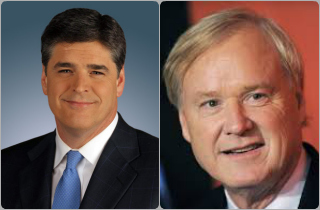 On his radio show Wednesday afternoon, Sean Hannity doled out some backhanded compliments for the liberal commentators and columnists who've criticized the president over this week's various scandals. Most notably, the conservative radio host took a shot at MSNBC host Chris Matthews who, he said, despite having an "Obama-gasm" at the sight of the president, has managed to take a few shots at the White House this week.

"We're now only halfway through the worst week, by far, of the Obama presidency," Hannity began. "And let me tell you how bad it is: even Obama's reliable allies in the press have — to save even a little face, this is only temporary, I warn you — have had to seemingly turn on him."
His first example: "Mr. 'Thrill Up His Leg' himself, the guy who is 'Obama-gasmic' at the sight of Obama. He has an Obama-gasm. Chris Matthews, the guy who wets his pants at the very sight of Obama." Hannity also cited Andrea Mitchell as another MSNBC personality "criticizing the anointed one."
That on top of "big huge lib" Dan Rather, Watergate reporter Carl Bernstein, New York Times columnist Maureen Dowd, and Washington Post columnist Dana Milbank.
As Hannity sees it, "It's now to the point where reporters have to take a number and get in line so they can take their little shots at the anointed one. Frankly, they're shocked, they cant believe that this has happened."
"It's because they don't understand this guy, and I do," he concluded.
Listen below, as clipped by MofoPolitics:
— —
>> Follow Andrew Kirell (@AndrewKirell) on Twitter
Have a tip we should know? tips@mediaite.com