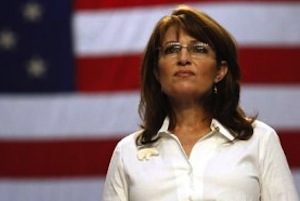 Real Clear Politics reported yesterday that a documentary on the career of Sarah Palin was not only in the works, but was planning to be released in theaters this summer…in Iowa. What could that portend?!
In an exclusive last night, Sean Hannity aired a brief clip of the movie which ostensibly depicted Palin's standing up to Exxon-Mobil executives over their delay in drilling in the oil rich fields of the Pt. Thompson unit of Alaska.
Its easy to see why this brief snippet from the movie was selected to share, as it touches on a number themes central to Palin's political rhetoric, namely, encouraging more domestic drilling and standing up for the little guy. Ironically, however, Palin has also earned some criticism for the profit-sharing policies she enacted with big oil while she served as Governor. In a 2008 interview with the New Yorker, she had this to say (emphasis mine):
And Alaska—we're set up, unlike other states in the union, where it's collectively Alaskans own the resources. So we share in the wealth when the development of these resources occurs." And she said, "Our state constitution—it lays it out for me, how I'm to conduct business with resource development here as the state C.E.O. It's to maximize benefits for Alaskans, not an individual company, not some multinational somewhere, but for Alaskans."
Gasp! Did she actually suggest that she shared the wealth as Governor of Alaska? Joe the Plumber must be livid!
Silly jokes aside, the terribly brief clip below makes me think that this movie will do incredibly well for the resurrection of Sarah Palin's public image, and not necessarily for reasons her detractors might think. Despite an enormous mainstream media presence (that includes a regular gig as Fox News commentator, a reality show and best selling books) Palin is still viewed as a caricature of her true self. And if this tiny preview is any indication, it is likely to depict her confidently discussion real policy decisions she made while Governor, an image that will fly in the face of the cartoonish portrayal that she often falls victim (and sometimes even plays into.)
(H/T Breitbart.tv)
Have a tip we should know? tips@mediaite.com