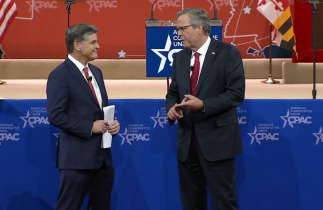 In a question-and-answer session with Sean Hannity at the Conservative Political Action Conference (CPAC), former Florida Gov. Jeb Bush (R) defended his policy record and talked conservative politics in anticipation of a potential 2016 presidential run.
Recently, Bush's mother Barbara had a change of heart about her original "enough Bushes" comments, and Hannity asked Jeb about that. His response undoubtedly previewed his entrance into the presidential race: "She's had a change of heart, and that's alright with me."
On the nitty-gritty political issues, Bush said it is okay for conservatives to be against bad policies, but said they need to start being for things. The crowd booed when Hannity prefaced a question by describing Bush support for a policy in Florida of giving in-state tuition benefits to children of illegal immigrants. Bush, though, defended his record and encouraged people to read his book.
"The simple fact is, there is no plan to deport 11 million people," Bush said about immigration reform. He believes they should get a job, abide by laws, learn English, receive no government benefits, and contribute to society, adding "let's control the border."
On the current budget battle in Congress over funding of the Department of Homeland Security, Bush said Congress should pass a bill that does not fund President Barack Obama's executive orders on immigration reform. According to Bush, Obama has gone "way beyond his constitutional powers."
Hannity then moved the conversation to education, which has been a controversial subject for Bush given his support for Common Core. Bush mentioned that he was the first governor in America to institute voucher systems, and said high education standards are helpful, but "by themselves aren't meaningful." He touted his "comprehensive approach" to education reform in Florida, and said the federal government should have no role in creation of standards, curriculum and content, and should not have access to student information. Overall, he encouraged more school choice policies.
In Florida, Bush eliminated affirmative action but said more minorities were attending college after the repeal.
On foreign policy, Bush said "Mitt Romney was right about a lot of things" in 2012, most notably on Russia. "We can't disengage in the world and expect a better world," Bush said of conflicts in the Middle East and elsewhere. His approach contrasted with that offered by Sen. Rand Paul (R-KY) in his speech earlier on Friday.
Bush warned against negotiations with Iran, and said the Obama Administration is "legitimizing the Ayatollah and his nuclear capability." In addition, he said there should be "no light" between the U.S. and Israel on the issue of Iran. Bush expressed confidence that the American people will reject what Obama wants to do with Iran.
On acknowledging radical Islam, Bush said the Obama Administration has a "misunderstanding of what this Islamic terrorist threat is" and encouraged politicians to "heighten the awareness" of this threat.
If he becomes president, he said, his priorities would include executive orders to undo President Obama's "unconstitutional actions," regulatory reform, and a restructuring of the tax code. Bush described himself as a "practicing reform-minded conservative."
Bush also said marijuana legalization is a bad idea, but said states should have the right to do it. During a "word associations" portion of the Q&A, Bush just had one thing to say about former Secretary of State and potential presidential rival Hillary Clinton: "foreign fundraising." He called Obama a "failed president" who has "trampled over the Constitution" and "disrespected our history and the extraordinary nature of our country."
Overall, he said, the next president should "restore a love of our country."
Watch the video below, via C-SPAN:
[Image via screengrab]
— —
>>Follow Andrew Desiderio (@forza_desiderio) on Twitter
Have a tip we should know? tips@mediaite.com