Hannity Questions Prosecution In Trayvon Martin Case: 'It Seems Like There Is Overcharging'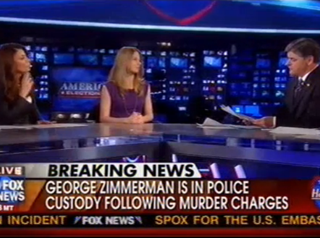 Sean Hannity, who has had a unique role in the Trayvon Martin story, reacted to the charge of second degree murder today that George Zimmerman now pleads not guilty against, and seemed skeptical that it was the right charge to make. Consulting his panel of attorneys, Hannity wondered whether this was perhaps a case of "overcharging," and hoped the prosecution had interviewed several eyewitnesses that had come forward anonymously to the press.

RELATED: Sean Hannity Confirms He Spoke To George Zimmerman, Agreed Not To Report On Conversation
"Your heart goes out to the mother in this case," Hannity noted at the top of the segment, before continuing to note what he conceived of as an extreme amount of emotions out in the public– "you have people saying he was profiled… you have activists, a bounty on somebody's head," he narrated. They turned to discuss the prosecutor, and panelist Anna Sigga Nicolazzi defended the procedure as at least not apparently motivated by "political or public pressure"– "what it looks like to me is that she took her time."
Hannity argued that he found it surprising that an interview of an anonymous eyewitness Fox reporter Shannon Butler broadcast early the case had not made as many headlines, as it was "the key interview up to this point." Butler, who was also on the panel, suggested it was likely the prosecution had spoken to those eyewitnesses. That opened up the floor to debate just how much information was yet to be uncovered, and Hannity asked whether "the injuries, forensics, that's all going to make the difference in this case."
The panel agreed that, yes, it would. Rebecca Rose Woodland also brought up the possibility of "sudden combat," which would "absolutely make the jury declare not guilty." She also responded to Hannity's concern about overcharging with the point that "sometimes when they overcharge, the jury acquits," which, if there is indeed a crime in this fact pattern, would do the victim a disservice.
The segment via Fox News below:

Have a tip we should know? tips@mediaite.com