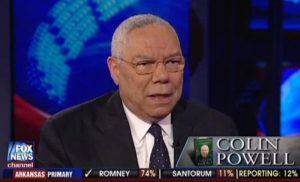 On Tuesday night, former Secretary of State Colin Powell paid a visit to Sean Hannity. While Powell's refrained from making an endorsement in this general election cycle, Hannity recalled his 2008 endorsement of President Barack Obama, and said he didn't understand it. The two were in disagreement over Obama's divisiveness, with Powell lamenting the lack of compromise in politics today.
Hannity noted Powell's work with Ronald Reagan, and said he didn't understand — given Reagan's thoughts on limited government — how Powell endorsed Obama four years ago. Powell said he'd considered it very carefully, but felt Obama was better for the job, despite having the highest regard for his opponent.
While revisiting 2008, Hannity also brought up Powell's criticism of those attacking Obama by bringing up Bill Ayers, or by calling him a socialist. He endorsed Obama because of his "inclusiveness," Hannity said, but now the Obama campaign attacks Republicans for their opposition to government involvement in health care and the like. "I find him one of the most divisive figures that I've witnessed in politics today," Hannity said.
Powell didn't quite agree with that. What was divisive, he said, was when a number of commentators and pundits said they were set to destroy Obama after he was inaugurated. Powell further dismissed Ayers and Rev. Jeremiah Wright as not being defining or significant issues. The people heard all the attacks, he said, but they still elected Obama president.
"Politics is tough stuff," Powell said. Politics today, he said, sometimes seems like "it's all about winning, not about compromising." He asked, "How is the country going to work" if nobody compromises? That, he said, it what we need more of today.
Take a look, via Fox News:

Have a tip we should know? tips@mediaite.com