Hannity Takes On Trayvon Martin Attorney: 'Are We At A Point Where There's Been A Rush To Judgment?'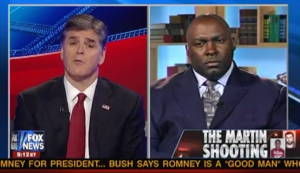 Fox News' Sean Hannity sat down with Daryl Parks, an attorney for Trayvon Martin's family, on Thursday night. Though Parks was adamant about the evidence that is currently public, and its implication of Zimmerman's guilt, Hannity argued we don't have all the facts, and everyone seems to be jumping to conclusions.
Hannity began by playing the clip in which George Zimmerman's father defends his son's side of the story. He asked Parks, "Are we at a point where there's been a rush to judgment? You said you want Mr. Zimmerman arrested, you want him charged."
Parks said there are several things we know to be true. Those include the 911 tape, which shows Zimmerman pursued Martin after being told not to, and that he engages Martin. We also know, he said, that we now have a witness who says he saw Zimmerman on top of Martin. "Whether he's guilty or not is not the issue when it comes to arresting someone," he said.
Hannity argued that there's also a witness who contradicts that story, who saw Martin on top of Zimmerman, pounding his head. Parks insisted there's enough probably cause to arrest him. "He should be arrested, we go to court, let the court decide," he said.
Zimmerman's injuries are consistent with that other witness' story, Hannity pressed. Parks said there's no blood in the newly releaed surveillance video, but Hannity argued Zimmerman was treated by a medic. He further pointed to the Daily Caller story that asserts an injury is visible on the back of his head. He then asked if we know whether Zimmerman changed his clothes. If so, "we have a real problem," Parks said. "It's evidence in a murder case, sir."
That doesn't mean clothes weren't given to the police, Hannity said. He then added that Zimmerman felt, in his mind, he was doing the right thing — and that he can see how, emotionally, both sides approached the situation differently, and the result was a horrific tragedy.
"Please back up," Parks said. Martin was walking down the street with Skittles and iced tea. Hannity said we don't know all the facts and that he's simply putting forth both sides of the story. Asked about the possibility that Martin hurt Zimmerman, Parks evaded the question — but pressed further, he said it could be possible since Zimmerman "instigated" the incident by getting out of the vehicle against advice to the contrary.
Hannity asked for evidence of that, to which Parks cited the phone logs with Martin's girlfriend. But there are no recordings, Hannity noted, just her testimony.
Parks pointed to the new witness who spoke to Anderson Cooper Thursday night, but Hannity asked, "Where was that witness a month ago?" Parks said new information continues to come out.
When Hannity mentioned the racial allegations don't seem to fit Zimmerman's profile, Parks said he wanted to tell "all of America" that "we're not making this a racial issue." He continued that we have to give some "credence" to the girlfriend's testimony. He added, "Mr. Zimmerman should have stayed in the vehicle like the authorities told him to do" — a point that Hannity agreed with.
The only question that remains, Hannity said, is whether Zimmerman was walking back to the car and who initiated the confrontation. "And we don't know," he said. "Yes, we do," Parks refuted.
Parks said the 911 tapes are very clear, they show Zimmerman was following Martin, "and that makes him the instigator." Zimmerman "has no badge," he said. "He's a guy walking around with a 9 milimeter. He's a vigilante!"
Hannity said we'll find out when the investigation is complete, and hoped everyone would stop rushing to judgment.
Take a look, via Fox News:

Have a tip we should know? tips@mediaite.com