Hannity Tears Into Liberal Guest For Trying To Bring Up 'Five-Year-Old' Waterboarding Offer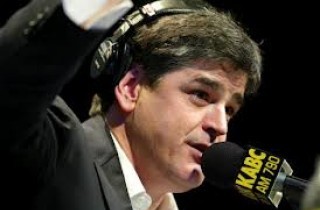 On his radio show this week, Sean Hannity tore into ThinkProgress editor Scott Keyes for bringing up the "five-year-old issue" of Hannity's offer to be "waterboarded" for charity by liberal actor Charles Grodin.
As Hannity's interview with Keyes began, the progressive writer took the opportunity to rehash the 2009 television segment in which Grodin and Hannity discussed the controversial form of torture.

"Before we get started I wanted to say one quick thing," Keyes said.
Sensing what Keyes was going to bring up, Hannity said, "Oh, here we go."
"Back in April 2009, you'd made a very generous offer," Keyes continued. "To prove that it's not torture, you agreed on your television show to be waterboarded for charity and to donate the proceeds to the troops' families."
"I said Charles Grodin can do it," Hannity interjected.
"Now I know you're an honorable guy Sean, when are you planning to hold the event?" the ThinkProgress editor persisted.
"You're obviously taping this. I'm not getting into your five-year-old issue," Hannity said before scolding the guest: "Here I am bringing you on the program and give you an opportunity to give your pretty radical left-wing point of view, and that's kind of the way you treat me. But that's all right."
"Sean, it's just that you don't think this is torture," Keyes explained. "And I'm just curious."
"Excuse me, excuse me, excuse me, excuse me," Hannity shot back. "I get to ask the questions on the program," he said before introducing the segment's other guest and continuing on with the conversation.
Listen below, via WABC-NY:
[h/t ThinkProgress]
— —
>> Follow Andrew Kirell (@AndrewKirell) on Twitter
Have a tip we should know? tips@mediaite.com