Hannity Tells President Obama To Give Spike Lee's Money Back, Says It's 'The Right Thing To Do'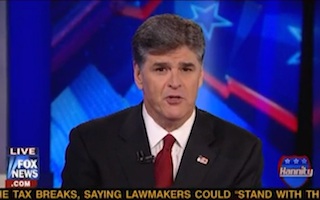 On Thursday night's Hannity, Sean Hannity weighed in on Spike Lee's erroneous tweet targeting George Zimmerman, that inadvertently put an elderly couple in danger, calling upon President Obama to give back Lee's money he helped him fundraise.
"It is important to note that Spike Lee, like Bill Maher, is a big Obama supporter," Hannity observed. "In January, he held a fundraiser for the President at his house that netted him $1.6 million. Now, in light of the President's position and lectures on civil discourse, wouldn't returning the money that Spike Lee helped him to raise — wouldn't that be the right thing to do? No pun intended!"
The Fox News host brought together a panel of critics to give their take on Lee's tweet and the racial tensions surrounding the Trayvon Martin case.
RELATED: Hannity Takes On Trayvon Martin Attorney: 'Are We At A Point Where There's Been A Rush To Judgment?'
Criminal Defense Attorney Tamara Holder disagreed with Hannity that Lee was a "violent person" but still thought "the blacks" were blowing the Martin case way out of proportion, slamming Congressional representatives wearing hoodies.
"I think that the blacks are also making this more of a racial issue than this should be!" Holder quipped. "We need to, in America, discuss white, black, hispanic, whatever you want to call George Zimmerman, we need to discuss racial tension and violence."
"There's no evidence of racial antipathy!" Hannity interjected.
Conservative writer Deneen Borelli agreed that what Lee did was wrong, but President Obama had not helped the situation.
"We have a President who has frozen racial tension in our country, instead of thawing it," Borelli explained. "Based on the comments that Trayvon would look like him. What President Obama needs to do is reset the tone. He needs to come out and say we are a nation of rules and laws."
"Where's Eric Holder!?" asked Hannity, alluding back to the Black Panthers putting a bounty on Zimmerman.
"He's there, Sean!" contended Holder (no relation to the Attorney General).
Hannity thought people were being quick to judge Zimmerman without a trial.
Borelli put fault squarely with liberal African Americans.
"Sadly, we have a monopoly of a communication effort in the black community," Borelli lamented. "We have the liberal black establishment, who has this echo chamber of the same message. This is why I am saying a direction needs to come from the top. President Obama needs to put a lid on this powderkeg because things have the potential to escalate."
"But he's not going to! He has no cajones!" Holder asserted bluntly. "He had the opportunity and instead, he had a beer in the back yard! (…) He needs to step up and be a leader."
"I think it's time for the president — he needs to use the phrase Sister Soulja moment. another opportunity, another window has closed. An opportunity blown, I think, for the president," Hannity opined.
Watch Hannity and panel criticize Lee and Obama below via Fox News:

Have a tip we should know? tips@mediaite.com