Hannity To Bob Woodward: The Media Isn't Calling Out Obama Admin On Blatant Lies
Hannity To Woodward: The Media Isn't Calling Out Obama Admin On Blatant Lies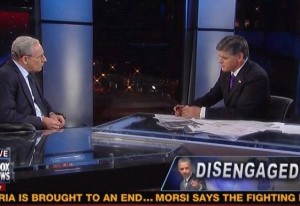 Sean Hannity brought on Bob Woodward for a lengthy interview, and Hannity brought up Woodward's famous coverage of the Watergate scandal to make a point about the media coverage of President Obama. Hannity lamented that the media is not calling out Obama for "purposely lying" and asked Woodward why the media has done so little to hold the president accountable over the past four years.
RELATED: Woodward: WH May Have Released Too Much Info By 'Patting Itself On The Back' Over Bin Laden
As an example of a lie Obama has told recently, Hannity pointed to the president saying that the attack on the U.S. consulate in Libya was spurred by the film Innocence of Muslims, when there is evidence to suggest otherwise. Hannity told Woodward that the media should be asking the tough questions of the Obama administration and demand to give them the facts, asking Woodward why the media is not so quick to call out the Obama administration for lies.
Woodward admitted since he did not do any reporting on the subject, he cannot say for certain, but did say that Obama has misrepresented himself by saying there was a trillion-dollar cut. Woodward expressed hope that the presidential debate moderators would ask follow-up questions instead of just letting them say whatever they want.
Hannity kept pressing on the issue of media bias, joking that if Obama said there was a doughnut in the sky, the media would "regurgitate it" without checking it. He said the Obama administration has not been adequately challenged by the media about unmet or unfulfilled promises from 2008. Woodward said "you can't be too aggressive" when you're a journalist, and pointed out that he threw some hardballs at Obama when interviewing the president for his book.
Hannity credited Woodward for "asking tough questions" of politicians. Woodward reiterated that he wants to see the debate moderators "get a little tough" with Obama and Mitt Romney.
Watch the video below, courtesy of Fox News:
—–
Follow Josh Feldman on Twitter: @feldmaniac
Have a tip we should know? tips@mediaite.com
Josh Feldman - Senior Editor