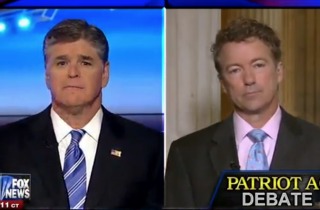 During a Monday evening Hannity appearance, Sen. Rand Paul (R-KY) continued to face questions from fellow conservatives about his remarks that the Republican Party's hawkish wing essentially created ISIS.
"ISIS exists and grew stronger because of the hawks in our party who gave arms indiscriminately," Sen. Paul told MSNBC last week. "And most of those arms were snatched up by ISIS. These hawks also wanted to bomb [Syrian President Bashar] Assad, which would have made ISIS' job even easier. They created these people."
And so last night, Sean Hannity — a hawkish Republican himself — confronted his frequent guest in the senator:
George W. Bush warned us what would happen with pinpoint accuracy what would happen if we went into Iraq without providing training, intelligence for Iraqi forces. Or in the case of Syria, the president draws a line in the sand and doesn't follow through. I'm not sure why you're blaming hawks in the party, because I was one of them. I supported the Iraq war for all the reasons every agency in the world thought was real intelligence. Not sure why you're blaming your fellow conservatives…
"Ultimately, I think I could have stated it better," the senator conceded. "The ultimate people who are responsible for terrorism are obviously the terrorists, so ISIS is responsible for the mayhem, the murders, the brutality, the beheadings. That's ISIS. But I would say that we could have a valid discussion over whether or not ISIS has grown stronger by pouring arms into the Islamic rebels in the Syrian civil war."
However, he added, "It is objective truth that ISIS grew stronger the more weapons that went into the Syrian civil war. I think it was an unintended consequence that ISIS grew stronger because of weaponizing these Islamic rebels."
For his part, Hannity resisted adding his name to the verbal list of "Rand Paul should just run as Democrat" talking-point signatories.
Watch the clip below, via Fox News:
[h/t RCP Video]
[Image via Fox/screengrab]
— —
Have a tip we should know? tips@mediaite.com