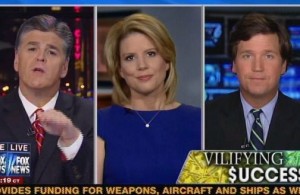 Hollywood icon Ed Asner recently did voiceover work for a cartoon video released by the California Federation of Teachers going after the wealthy for going out of their way to not pay taxes or pay as little taxes as possible. The cartoon features one scene of a rich man pissing on the poor to convey "trickle-down economics" in the most visual way possible, and tonight drew the ire of Sean Hannity, who found the video hateful and offensive.
RELATED: Losing Their Religion: Bill Kristol Says 'It Won't Kill The Country If We Raise Taxes On Millionaires'
Hannity said that the video is quite plainly "indoctrination" and gets people to believe that rich people are evil and greedy. Kirsten Powers admitted the video rubbed her the wrong way too, saying it was "a little too much demonizing for my taste." Tucker Carlson said the video looked akin to something made by propaganda masters in nations like North Korea, and found it shocking that there are actually teachers in California who agree with the message of the video.
Hannity remarked that the video almost made him want to "beat up a rich person." He and both panelists agreed that the video seems too willing to demonize success. Of course, Hannity then connected the video to national politics, suggesting its message is the same as President Obama's. Carlson said "the only reason" Obama won reelection is because of attitudes like the one pushed in the video.
Powers disputed the idea that Obama's message is anything like the viewpoint of the video, and said it's a "fair criticism" to attack the rich for their treatment of workers and lack of job stability, but still maintained the video "goes too far."
Watch the video below, courtesy of Fox News:
—–
Follow Josh Feldman on Twitter: @feldmaniac
Have a tip we should know? tips@mediaite.com
Josh Feldman - Senior Editor