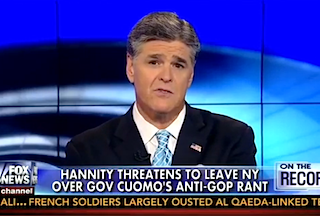 Sean Hannity is still threatening to leave the city of New York, just not any time too soon. The Fox host appeared with Greta Van Susteren Tuesday night to help clarify some statements he made on the radio in response to Governor Andrew Cuomo's suggestion that "extreme conservatives" have "no place" in New York state.
"I think people might have interpreted it that I'm leaving the next day," Hannity told Van Susteren. "If I could I probably would, but I like to consider myself a responsible person." He said he had "probably over 100" people who rely on him for their jobs between his TV and radio gigs.
Hannity's beef with New York state appears to have less to do with what Cuomo said (or didn't say, according to his office) and more to do with the state's relatively high tax rates. "It's almost like I am facilitating the robbery of the hard-earned money that I'm making and I'm not going to do it anymore," he said. "As soon as I am able, some time probably when my son graduates from high school, I'm getting out of here as quick as I can."
For the record, according to this People magazine article from 2002, Hannity's son is currently about 15 years old, but he also has a younger daughter who's closer to 12, so it could be another 3-6 years before he leaves the state "as quick as" he can.
"This is the United Socialist State of New York," Hannity said to Van Susteren, citing New York City Mayor Bill de Blasio right along with Cuomo as liberals who are "not the tolerant people they claim to be."
With his proposals to raise taxes on the wealthiest New Yorkers, de Blasio is betting that residents like Hannity will be "responsible" enough not to flee to states like Florida. "When we call on the wealthiest among us to pay just a little more in taxes to fund universal pre-K and after-school programs, we aren't threatening anyone's success," he said in his election night victory speech. "We are asking those who have done very well to ensure that every child has the same opportunity to do just as well as they have. That's how we all rise together."
Watch the video below, via Fox News:
[photo via screengrab]
— —
>> Follow Matt Wilstein (@TheMattWilstein) on Twitter
Have a tip we should know? tips@mediaite.com