Hannity's "Great American Panel" Recaps Super Bowl Ads, Balks At White House Tailgate Menu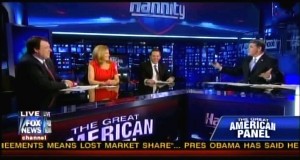 Super Bowl Sunday may be the only time of the year where the media gets to dedicate significant air time to analyzing advertisements. Sean Hannity's Great American Panel took a look at their favorite Super Bowl ads and the , but not before criticizing the White House Super Bowl Party's dinner menu for not serving enough arugula.
Hannity, who today welcomed to the panel Marc Thiessen, Nina Easton and Greg Gutfeld, began the discussion with a look at what the White House served for Super Bowl Sunday. The list included potatoes, ice cream, chips and multiple types of dip, and a fair variety of beer. This upset Hannity greatly, as he complained that "we can't even have salt" according to the First Lady's health food initiatives, but, he continued, the White House seemed comfortable with fatty food. Easton quipped to Hannity that, "if [Michelle Obama] had arugula and goat cheese, you would've had a field day"– a premise on which Gutfeld kept building, imagining the menu to be a product of the President's fear that, had the First Lady served health foods, "I will be crucified by Sean Hannity." Thiessen, on his part, joked that "a healthy Super Bowl party is unamerican."
The panel then took a look at several ads, including the mini-Darth Vader Volkswagen commercial, the Detroit-centric Chevrolet commercial starring Eminem, and the Doritos dog act. The first of these terrified Gutfeld, who argued that, if a "maniacal murderer" like Darth Vader could be cute because he was "tiny," the same could be said of any dictator (Easton took the bait on this one, objecting to the idea that little boys could not be adorable). Hannity praised both the Chevrolet model Eminem advertised as well as the commercial. "Last time I was in Detroit, it broke my heart," he noted, finding the message positive. To this Gutfeld quipped that "if you like that car, Eminem should not like that car," insisting that he should be "riding a Harley" or a cooler model vehicle.
Finally, the crew took to politics, with Hannity expressing disappointment at President Obama's answers to his colleague Bill O'Reilly during the pregame interview yesterday. Thiessen in particular agreed, arguing that Ronald Reagan had helped "friendly" dictators transition out of power, "we've done this before," and he wondered what is taking so long between Obama and Egyptian leader.
The discussion from tonight's Hannity via Fox News below:

Have a tip we should know? tips@mediaite.com