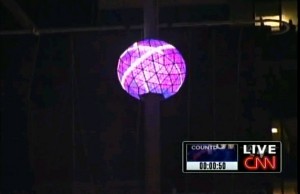 So this is 2011. Nice. We made it. Happy New Year, people!
In keeping with tradition, about a million revelers packed themselves into New York's Times Square–agreeing to go without access to a bathroom and any semblance of personal space for hours on end just for a chance to see the proverbial ball drop in person, and maybe to catch a fleeting glimpse of New Year's Eve confetti falling onto the silvery locks of Anderson Cooper.
Here at Mediaite, we follow the alternate Times Square tradition: popping corks, making toasts, and watching the ball drop on TV. So what's the deal with that ball, you ask? Excellent question. We can tell you this much, thanks to the folks at the Times Square Alliance, who host the show:
The Ball is a geodesic sphere, 12 feet in diameter and weighing 11,875 pounds, built to withstand the stresses of high winds, precipitation and temperature fluctuation. The 2,688 crystal triangles are bolted to 672 LED modules which are attached to the aluminum frame of the Ball. The Ball is illuminated by 32,256 Philips Luxeon Rebel LEDs (light emitting diodes). Each LED module contains 48 Philips LEDs – 12 red, 12 blue, 12 green, and 12 white for a total of 8,064 of each color. By mixing these four colors, the Ball is capable of creating a palette of more than 16 million vibrant colors and billions of patterns producing a spectacular kaleidoscope effect atop One Times Square.
Now that we've got that out of the way, let's watch the sucker drop, from CNN:
Have a tip we should know? tips@mediaite.com