Happy New Year 2014! Watch the Ball Drop in New York's Times Square
Happy New Year 2014! Re-Watch the Times Square Ball Drop Here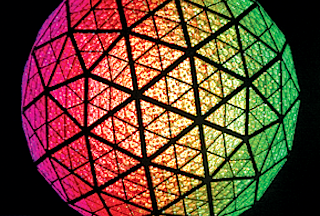 Happy new year! And welcome to 2014. Whether you watched it live and want to experience it again or were just too busy partying, here's the dramatic ball drop from just minutes in New York City's Times Square. Here's to a great, if unusually controversy-filled 2013, and an even better 2014. Thanks for ringing in the new year with Mediaite and we hope to see you here a lot over the next year.
Here's everything there is to know about this year's ball, via the Times Square Alliance:
The Ball is a geodesic sphere, 12 feet in diameter, and weighs 11,875 pounds.

The Ball is covered with a total of 2,688 Waterford Crystal triangles that vary in size, and range in length from 4 ¾ inches to 5 ¾ inches per side.

For Times Square 2014, all 2,688 of the Waterford Crystal triangles introduce the new design Gift of Imagination – featuring a series of intricate wedge cuts that appear to be endless mirrored reflections of each other inspiring our imagination with a kaleidoscope of colorful patterns on the Ball.

The 2,688 Waterford Crystal triangles are bolted to 672 LED modules which are attached to the aluminum frame of the Ball.

The Ball is illuminated by 32,256 Philips Luxeon Rebel LEDs (light emitting diodes). Each LED module contains 48 Philips Luxeon Rebel LEDs – 12 red, 12 blue, 12 green, and 12 white for a total of 8,064 of each color.

The Ball is capable of creating a palette of more than 16 million vibrant colors and billions of patterns producing a spectacular kaleidoscope effect atop One Times Square.
Watch video below:
[photo via Times Square Alliance]
— —
>> Follow Matt Wilstein (@TheMattWilstein) on Twitter
Have a tip we should know? tips@mediaite.com