Harassed Philadelphia Man Learns It's A Really Bad Time To Be Named 'Casey Anthony'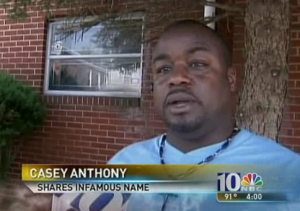 If you were trying to think of a name that would look really, really bad on a resume almost anywhere in the country today, "Casey Anthony" would be a good choice. Just ask Casey Anthony. No, not the one from Florida who gets out of jail this week. We're talking about the Casey Anthony of Philadelphia–the guy who named both his kids Casey Anthony and now has a bit of a problem with strangers calling to tell him what a horrible person he is. "[They were] making comments about the verdict; who am I to take a child's life," Anthony said. "And then I'm sitting back like, excuse me? I'm not the Casey Anthony you think."
As Anthony told the NBC station in Philly, angry folks started calling immediately after the jury in Orlando found that other Casey Anthony not guilty on all felony counts involving the death of her daughter Caylee:
"After the verdict that day, it went crazy," Anthony told NBC Philadelphia's Marisa Brahney. "It was like everybody wanted to know and wanted to comment on this Casey Anthony situation."

Strangers began bombarding Anthony last week on Facebook, with hundreds of friend requests, messages, wall posts, and — because his profile included his number — phone calls.
So if your name is Casey Anthony, you have a few options. One, change your name. Two, use your initials, like "C.J. Anthony" or something. Three, leave the country for a while until things, you know, cool off. Or, at the very least, take your phone number off your Facebook profile. That's a good start. Just ask Casey Anthony.
Watch it here, from NBC Philadelphia:

Have a tip we should know? tips@mediaite.com