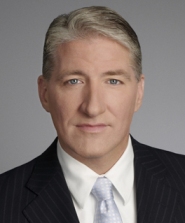 We now know who will replace long time CNN host Lou Dobbs, who left the network abruptly yesterday.
The new 7pmET host will be John King, a rising star at the network who began anchoring a four-hour Sunday block earlier this year.
From the CNN press release:
As one of the nation's leading political reporters, King will host a definitive political hour that goes well beyond the surface of the day's top stories to provide in-depth analysis and context to key political movements in Washington and across the nation. As King does on his Sunday program, State of the Union, he will sit down with a wide range of the day's top newsmakers, key political reporters and analysts, and elected officials.

"The program will reflect what CNN is all about: straight facts from our anchors and the widest range of opinions from across the political spectrum," said Klein. "John has enthralled CNN viewers with his vast political knowledge, and he has spent the past year reporting from beyond the Beltway on pressing policy issues and the real people they impact. Every night, he'll share his passion and his insights about what is really going on in Washington and across America."
Also in the release is the news King will be leaving State of the Union when he takes over the weekday show early next year. As for the rest of 2009, a CNN spokesperson tells Mediaite, "An interim program will go in at 7pm until the end of the year called 'CNN Tonight,' anchored by various anchors." That won't begin until tomorrow – tonight The Situation Room is expanded to an extra hour, and tomorrow a Veteran's Day special will air in the timeslot.
Maybe those rotating anchors will be auditioning for King's current job, the four-hour Sunday block. With King leaving the gig, the show is a great place to insert a new talent, especially one CNN is looking to groom into a weekday spot, the same way it did during 2009 for King.
King may be best known for his use of the "Magic Wall" during the 2008 Election, and he continued using it on Sunday mornings. We imagine that will be part of his next 7pmET show (in fact, maybe they should call it Magic Wall with John King purely on name recognition alone). But the other thing King is known for is being unbiased and objective, as Klein said in the release. It sounds like CNN's strategy, as it looks to turn around some of its worst ratings in recent years, will be to stick with the plan of hard news. We'll see if it works. Then again, this is 7pmET, so we may get some more changes in prime time by the time King's 2010 show debuts.
Get to know your new 7pmET weekday anchor with some highlights from the first six months of his Sunday show:


—–
» Follow Steve Krakauer on Twitter
Have a tip we should know? tips@mediaite.com