Harris-Perry Panel: High Black Unemployment Because They Have Few Links To Corporate America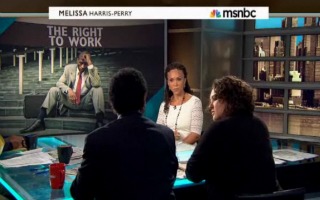 On Saturday, a panel discussing the persistently high unemployment among African-Americans and women on MSNBC's Melissa Harris-Perry linked that problem to the shrinking public sector. One of host Melissa Harris-Perry's guests said that the black middle class was born out of the expansion of public sector employment and that African-Americans simply do not have links to corporate America. "When the white folks get cut from these corporate jobs, we've long before been cut from those positions," said one panel guest.

RELATED: NY Times Buries The Lede: Anderson Cooper's Ratings Surge At 8PM
Harris-Perry said that African-American unemployment is much higher than the rate for either Hispanics or white Americans, but that blacks are much more likely to have jobs in the public sector than other ethnicities. 21.2 percent of African-Americans had jobs in the public sector according to a report from the University of California Berkley's Labor Center and black Americans were 30 percent more likely to be employed in the public versus the private sector.
"Since 2008, 636,000 public sector jobs have disappeared from the economy and it's a number that could soon be increased by 145,000," said Harris-Perry. "That's the number Mitt Romney said he would cut when he vowed to, quote, 'send them home' when he became president. You wonder why he got booed at the NAACP convention."
Harris-Perry asked her panel guests if it was not true that black middle class came about as a result of government employment.
"The black middle class was built on those public sector jobs," said attorney Otis Graham. "Unlike the white middle class which was built on jobs working for corporate America, where they could guarantee that there would be a couple generations working for the phone company or working for IBM."
He concluded saying that the black community has never had long ties to corporate America. "That's not part of our story or our narrative," Graham concluded.
Activist and writer Shelby Knox added that women, too, find more than the average share of jobs in the public sector and the shrinking of government spending adversely impacts the rate of women in the workforce. Harris-Perry said that this point dovetails with the "war on teachers."
Watch the segment below via MSNBC:
> >Follow Noah Rothman (@Noah_C_Rothman) on Twitter
Have a tip we should know? tips@mediaite.com