Harris-Perry Takes On Daniel Tosh's Rape Jokes And What Is Appropriate For Comics To Joke About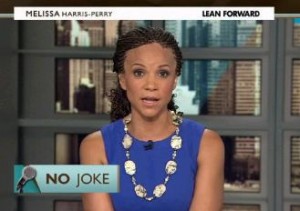 By its very nature, comedy will always be pushing boundaries and challenging taboos. Sometime the end result might not be as artful as one would like, but many comedians would rather err on the side of going over the line than self-censorship. On her MSNBC show today, Melissa Harris-Perry focused on the recent controversy over rape jokes made by comedian Daniel Tosh. Tosh made some pretty off-color jokes, which came as a complete surprise to people who don't know who Daniel Tosh is.
RELATED: Whoopi Goldberg On Daniel Tosh's Rape Joke: 'If It Works, Then It's Okay'
Perry tried to paint a scenario of what happened on the night of the stand-up, and wondered if anyone would have been laughing if Tosh was yukking it up about men getting raped. Well, if Dave Chappelle could get away with it…
Perry admitted that the feminist side of her wants to just rage at Tosh and say that rape is never funny, but on the other hand she is the kind of person who likes to enjoy "obscene humor." The Nation's Jessica Valenti said that comedians can make funny jokes about rape (George Carlin had a brilliant take on this in one of his stand-ups.) She argued that comics like Carlin were able to capture the comedy in the nuances of rape and the way people talk about rape, compared to Tosh's completely unfiltered thoughts.
Perry acknowledged a common stereotype of feminists, namely that they can be politically correct buzzkills and make amazing generalizations of what is out of bounds. Valenti said humor only works when it's the powerless speaking truth to power and not when it's the other way around.
Comedians have been defending Tosh all over the internet, from Jim Norton to Dane Cook to Patton Oswalt. Perry brought up the notion that because she and Valenti are not comics, they have no right to tell a comedian what is and isn't inappropriate. Valenti said that freedom of speech does not mean the same thing as freedom from criticism, and that calls for Comedy Central to push Tosh off the air are perfectly legitimate. Well, as Bill Maher pointed out in the midst of his kerfuffle with Rush Limbaugh and the conservative media over the whole Sandra Fluke meshugas, there is a difference between voicing an criticism and blatantadvertiser intimidation.
RELATED: Daniel Tosh Rape Joke Controversy Gets Weirder: Comedian Reportedly Rushing To Cut Rape Jokes From New Series
I don't know if Perry and Valenti have ever seen Tosh.0, but I'll give them the benefit of the doubt and assume they did. Tosh is probably one of the most provocative comedians on TV right now. He has made hundreds of racist jokes, sexist jokes, and homophobic jokes on his show. Even if Tosh said something along the lines of "wouldn't it be hilarious if that girl got raped right now" (for his part, Tosh said his jokes were taken out-of-context), that's what he does. Why is it always news when controversial comedians say controversial things? Patton Oswalt made a great point in his reaction to the outrage.
"Obviously, I don't agree with what he said, and I don't agree with how he said it, but I think it's very dangerous to create an atmosphere where people can't fuck up."
Do we honestly want comedians to start self-censoring because they don't want to get the same over-the-top pushback Tosh, Katt Williams, and Tracy Morgan did? When Tosh was at TCA in January 2011, he said, "I'm not a misogynistic and racist person… but I do find these jokes funny, so I say them." That's what comics do. They find things that make people laugh. If a joke bombs, they scrap it. But the last people you want to send the PC police after are comedians.
Watch the video below, courtesy of MSNBC:
—–
Follow Josh Feldman on Twitter: @feldmaniac
Have a tip we should know? tips@mediaite.com
Josh Feldman - Senior Editor