Harry Reid Calls For 'Cautious' Approach On Guns: Assault Weapons Ban Not Likely To Pass
Reid Calls For 'Cautious' Approach On Guns: Assault Weapons Ban Not Likely To Pass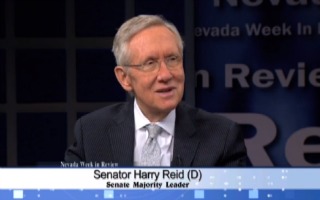 Senate Majority Leader Harry Reid said this week that any new gun control legislation will be written with an eye toward passage in both houses of Congress. Reid believes an assault weapons ban may be able to pass the Senate, but would be killed in the house.
Speaking on Nevada Week In Review, a news show on the Vegas PBS affiliate, Reid discussed a new ban:
"Is it something that can pass the Senate? Maybe. Is it something that can pass the House? I doubt it. So I think there are things that we know we can do."
RELATED: GOP Rep. Threatens Impeachment Over Obama's Possible Executive Order On Gun Control

Reid, who has an 'A' rating from the National Rifle Association, said that there is "too much violence" in our society which is "not just from guns," but also from television, movies and video games. He did note, however, that although no one wants to "diminish the Second Amendment," we should "take a deep breath and realize where we are and where we need to go."
"We need to be very cool and cautious," he added.
Reid also said "we have to be fair," and claimed recent poll results show "most people favor having the ability of people to carry guns."
"So I think that the American people want us to be very cautious what we do. I think they want us to do things that are logical, smart, and make the country safer, not just be doing things that get a headline in a newspaper," he concluded.
Watch the clip below, via Vegas PBS:

h/t TPM
Have a tip we should know? tips@mediaite.com