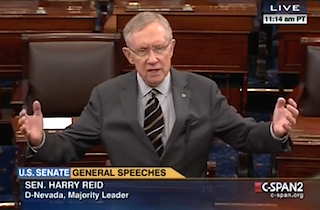 If the NBA can sanction L.A. Clippers owner Donald Sterling for making racist comments, then why can't the NFL take action to change the name of the Washington Redskins? That the logic Senate Majority Leader Harry Reid (D-NV) used Wednesday to urge the National Football League to get rid of a team name that many in and out of the Native American community find offensive.
Reid began by praising the NBA for "acting justly" by banning Sterling from the league for life and issuing him a $2.5 million fine. "Commissioner Silver and the NBA leadership have set the standard for how professional sports organizations should act in the face of racism," he said.
In light of yesterday's events, Reid publicly wondered whether the leadership of the NFL has "taken notice" of the NBA's decision. "How long will the NFL continue to do nothing — zero — as one of its teams bears a name that inflicts so much pain on Native Americans?" Reid asked.
The majority leader went to accuse Washington Redskins owner Daniel Snyder of being "untoward" in his attempts to use "tradition" as justification for holding on to the team's name. "Tradition? What tradition?" he asked. "A tradition of racism is all that name leaves in its wake. Mr. Snyder knows that in sports, the only tradition that matters is winning. So I urge Daniel Snyder to do what is morally right and remove this degrading term from the league by changing his team's name."
To show that a name change like this one can be done, Reid against turned to the NBA as an example. In the mid-'90s, owner Abe Pollin decided to change his Washington Bullets into the Washington Wizards because of a concern that the old name was too associated with gun violence. And the city of Washington, D.C. did not abandon the team after that.
As the Washington Post's Ed O'Keefe reported, Reid's analogy echoes one made previously this week by Ray Halbritter, a representative of the Oneida Indian Nation. Halbritter said that the NBA's action on Sterling "has shown leagues like the NFL that they have a moral responsibility to take disciplinary action against people like Dan Snyder, who also continues to proudly promote bigotry with the use of a dictionary-defined racial slur as his team's name."
Watch video below, via C-SPAN 2:
[Photo via screengrab]
— —
>> Follow Matt Wilstein (@TheMattWilstein) on Twitter
Have a tip we should know? tips@mediaite.com