Harry Reid Lambasts GOP After Hagel Vote Blocked: 'Just When You Thought Things Couldn't Get Worse'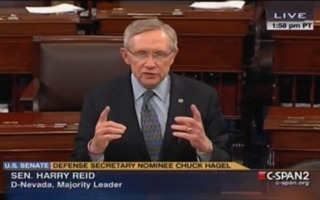 The Senate failed to move forward on Thursday with the confirmation of former Sen. Chuck Hagel (R-NE) to replace Leon Panetta as the next Secretary of Defense. Just after the Senate Republicans blocked a vote to move forward with Hagel's nomination, Senate Majority Leader Harry Reid (D-NV) took to the floor of the upper chamber to admonish his GOP colleagues for ratcheting up "the level of obstruction here in Washington."

"I regret that Republican senators, except for the valiant four, chose to filibuster the nomination of President Obama's nominee to be secretary of defense," Reid said. "The Republicans have made an unfortunate choice to ratcheted up the level of obstruction here in Washington. Just when you thought things couldn't get worse, it gets worse.
"In times like this, it's nice to have a Secretary of Defense," Reid said. He went on to outline the many threats to global security today, and reiterated the need for a fully staffed Defense Department.
"There is nothing that's going to change in the next ten days about the qualifications of Chuck Hagel," Reid continued. "He is a conservative Republican representing the ultra-liberal state of Nebraska."
"I'm going to go call Chuck Hagel when I'm finished here and say, 'I'm sorry. I'm sorry this has happened,'" Reid concluded. "I'm sorry for the president, I'm sorry for the country, and I'm sorry for you."
After Reid was finished, Sen. Jon Cornyn (R-TX) took to the floor to rebut Reid. He said that Republicans denied a cloture motion because there are "reasonable requests" for more information from the White House about the attack in Benghazi still outstanding.
"This is not any attempt to kill this nomination," Cornyn said. "This is not a filibuster. I realize that's the headline that the Majority Leader would like the newspapers to write."
Watch the clip below via C-SPAN:
> >Follow Noah Rothman (@NoahCRothman) on Twitter
Have a tip we should know? [email protected]