Harry Reid Shocks With Allegation That Deadly Marine Training Accident Tied To Sequester Cuts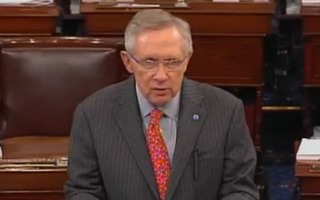 On Monday night, seven Marines were killed and eight injured during a live-fire training exercise in Nevada when a 60 mm mortar round exploded in its tube. Speaking on the floor of the Senate in the immediate wake of this tragedy, Senate Majority Leader Harry Reid (D-NV) blamed the mandatory budget cuts in the sequester for the deadly event. The sequester cuts were implemented just 19 days ago.

RELATED: Morning Joe Mocks Obama's 'Doomsday' Sequester: 'Nobody Told Him' He Won Election, 'Nothing's Happened'
"We don't know exactly what happened, but we know it was a violent explosion," Reid said in the Senate chambers on Tuesday. "It's very important we continue training our military. So important. But one of the things in sequester is we cut back on training and maintenance. That's the way sequester was written."
"It's just not appropriate, Mr. President, that our military can't train and do the maintenance necessary," Reid continued. "With the sequester, it's going to cut this stuff back."
Fox News Channel national security correspondent Jennifer Griffin reported that the military has imposed a moratorium on the use of 60 mm mortar rounds until an investigation into this incident is complete.
Griffin quoted an unnamed official within the United States Marines who hit back against Reid's comment. "I don't know how anyone could link this accident to budget cuts," Griffin said quoting the official. "Budget cuts would never cause Marines to operate in unsafe conditions."
Fox News Channel anchor Megyn Kelly reported that Fox News had reached out to Reid's office for clarification.
Watch the clip below via Fox News Channel:
> >Follow Noah Rothman (@NoahCRothman) on Twitter
Have a tip we should know? tips@mediaite.com