Harry Reid Pits 'Reasonable' Republicans Against Tea Party 'Extremists' in Senate Debate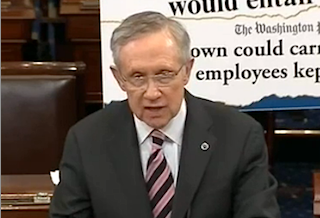 In his closing remarks during the Senate debate over the Republican effort to defund Obamacare, Senate Majority Leader Harry Reid (D-NV) challenged his GOP colleagues to take sides in the growing civil war within their party. Either they were the "reasonable Republicans" he'd worked with for years or they were the "extremist" tea partiers who "would rather tear down the house our founders built than govern from it."
"During my time in Washington," Reid began, "I've had the opportunity to work with many reasonable, thoughtful Republicans including those serving in this body today. Those reasonable Republicans value this institution, the United States Senate, and they respect the government of which it is a part." But today, he said, the Republican Party has been "infected" by "extremists" are "more interested in putting on a show" than they are in legislating.
Referring to Sen. Ted Cruz (R-TX) and his allies, Reid said these Republicans are "determined to waste the dwindling hours before a government shutdown." But, he added, "a bad day for government is a good day for the anarchists among us. Those who believe in no, I repeat, no government, that's their belief. The modern day anarchists known as the tea party, they believe in no government."
"It's important to note these tea party obstructionists don't represent mainstream Republicans either in this body or mainstream Republicans in our country," Reid continued, "but unfortunately, their grip on the rudder of the Republican Party is very firm." He accused the "radicals" in both the House and Senate of driving America "from crisis to crisis, leaving a trail of economic destruction behind."
Reid said their attempts to stop the Affordable Care Act from being implemented are just the latest example of their efforts to "obstruct" progress. It was a clearly impassioned speech that summed up, in perhaps hyperbolic terms, the divide that has emerged in the Republican Party during this debate.
Watch video below, via CSPAN-2:
[photo via screengrab]
— —
>> Follow Matt Wilstein (@TheMattWilstein) on Twitter
Have a tip we should know? tips@mediaite.com