Harvard's Niall Ferguson Rails Against Obama's Foreign Policy On Morning Joe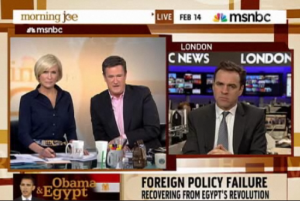 Niall Ferguson, Harvard professor and Newsweek columnist, rained on the Morning Joe parade this morning by arguing President Obama blew it in Egypt and has now left the country in a fragile state potentially susceptible to domination by the Muslim Brotherhood. Prior to hearing Ferguson, Mika Brzezinski and Joe Scarborough thought Obama did pretty well with the situation, however Ferguson passionately attempted to convince them otherwise.
Brzezinski claimed "looking at all the different reports coming in, and the pictures, and the peacefulness on the streets of Cairo, so far so good it actually seems like it went pretty damn well." Ferguson responded "I wished I shared your confidence" and attempted to teach Brzezinski a history lesson suggesting "anybody who counts this as a major breakthrough for United States foreign policy, hasn't got a clue about what happens in the wake of a revolution like this." Furthermore, Ferguson gave Obama horrible grades for failing to be prepared for the situation, for having a policy that seemingly changes every day, and for having "second-rate" advisors like Secretary Clinton and Secretary Gates who did not measure up to past secretaries in his opinion.
With his guns-blazing anti-Obama assessment, Ferguson concluded "the President regards making touchy-feely speeches as a substitute for having a strategy" and if he does have any strategy, it only is "I'm not George W. Bush – love me." By the end, Scarborough seemed somewhat convinced that Ferguson did reflect Obama's foreign policy, however Brzezinski was still optimistic about the situation in Egypt despite Ferguson's warning that "most revolutions lead not to happy clappy democracies."
Watch the clip from MSNBC below:

Have a tip we should know? tips@mediaite.com