Harvey's Hypocrisy: King of Gun Violence's Anti-NRA Flick Will Only Increase Gun Sales, Membership
Concha: King of Gun Violence's Anti-NRA Flick Would Only Increase Gun Sales, Membership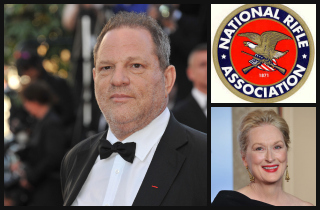 Pulp Fiction.
Reservoir Dogs.
Django Unchained.
Kill Bill.
Rambo.
The movies listed above are among the most violent in the history of cinema. For me, the reviews are a mixed bag, but Pulp is a Top-5 movie of mine of all time, with Shawshank, Wall Street I (the second one was never made…got it? GOT IT?!?), Caddyshack and A Beautiful Mind making the not-so-prestigious cut.
All of the films at the top of the page were produced by Harvey Weinstein. That success has made him one of the most powerful—and easily the most intimidating—force to be reckoned with in Hollywood (net worth estimated at $150 million). And all of these flicks have one very obvious theme in common:
Gun violence. Lots of it.
In fact, four of the five (with Pulp being the exception) make CNN's recent list of the 20 most violent movies. So you can understand the hilarious hypocrisy of Weinstein when, on Wednesday, he shared with the great Howard Stern his plans to release to a film (starring Meryl Streep) that will make the NRA "wish they weren't alive after I'm done with them."
Before we continue, a quick note on my general perspective on guns in America:
1) Yes, if a homeowner wants to keep a gun secured and impossible for children to access on their property, he or she has the right to protect their family and home.
2) Assault weapons should be banned. Military-style assault weapons and those with high-capacity ammunition-feeding capability should not be used by civilians, nor is there a need for it.
3) National Guardsman (400,000 total throughout the country) should be deployed on a monthly rotating schedule to help protect America's 100,000 public and private schools. Not a perfect solution, but whatever is or isn't being done now ain't working. More details on the plan from an earlier column here.
So the feeling is that invite to the local NRA meet-and-greet will likely get lost in the mail again before it gets to Chez Conch this year. But that doesn't change my perspective on Weinstein's misguided and duplicitous effort to attack said NRA.
For starters, you know how this will turn out in the end: The movie will bomb despite much hype and controversy leading up to it. After all, everyone has already seen this before (Michael Moore's Bowling for Columbine), and Streep—the best actress of her or any other generation—should know better after starring in the train wreck-at-the-box-office that was Tom Cruise's Lions for Lambs, a 2007 movie panned due to its anti-Afghanistan War stance (think of the opposite of today's Lone Survivor). For whatever reason, causes seen as liberal in this genre just aren't translating to success on the big screen in the past few years (most recent examples: Redacted, Rendition, In the Valley of Elah, with the award-winning Columbine being the exception over a decade ago).
In the process of losing money, the film will only greatly enhance gun sales and NRA enrollment once Weinstein and Streep start to promote the movie. So instead of the NRA begging Weinstein for mercy, they'll be sending him roses and a box of chocolates with a sincere thank-you card instead.
In the world of cable news, that repetitive debate we've now seen hundreds of times (pitting Second Amendment advocate versus gun control backer that usually ends with the anchor stepping in because both can't stop yelling over each other) will be rehashed on Fox, CNN and MSNBC ad-nauseam. Why? Because it's cheap to produce, easy to find passionate guests to book and rates relatively well. Trifecta!
Regarding the last item around debate, there is no (pun intended) silver bullet argument to make that hasn't been heard over and over again. Weinstein's perspective will be no different than what we've seen on the aforementioned cable news debates. If the horrific events of Newtown couldn't get anything done on guns (except boost sales), if school shootings seemingly happening monthly can't get anything done, if Chicago owning a murder rate that more than doubles Mexico City hasn't shifted matters in DC, than no movie, no person regardless of star power will have the ability to change that.
Especially someone like Harvey Weinstein…
Who has glamorized gun violence on the big screen for decades…
All while putting millions in his pocket along the way.
— —
>> Follow Joe Concha on Twitter (@ConchaMedia)
Have a tip we should know? tips@mediaite.com