Hate Mail Alert: Mike Huckabee On Ron Paul's 'Fanatical Believers' And 'Decent, Patriotic' Barack Obama
Mike Huckabee On Ron Paul's 'Fanatical Believers' And 'Decent, Patriotic' Barack Obama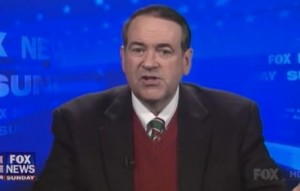 Former Iowa Caucuses-winner Mike Huckabee apparently wants to spend his post-Christmas days deleting hate mail from his inbox. In an interview with Fox News Sunday's Chris Wallace, Huckabee delivered a fairly blistering assessment of Iowa frontrunner Rep. Ron Paul and his "fanatical believers."
As if pissing off the Ronulans wasn't enough, Huckabee denounced his party's candidates for being too mean to President Obama, whom he called a "decent, patriotic American."
Wallace began by trying to suck Huckabee into his own feud with Ron Paul fans, asking if a win by the Texas congressman would discredit the Iowa Caucuses. The former Arkansas Governor obliged Wallace, flatly declaring that Ron Paul "is not going to be elected president."
"His views on foreign policy," Huckabee said, "are so much an anathema to Republicans and Democrats and what I call middle of the road people. He has a core of fanatical believers, and they don't represent mainstream Americans. It is not okay for Iran to have a nuclear weapon."
Unless I missed something, though, Ron Paul didn't say it was "okay" for Iran to have a nuclear weapon. There are fair arguments to be had over what Paul actually did say, which was that the US shouldn't use military force to preempt Iran's acquisition of such a weapon, but Huckabee's remarks were an unfair distortion of Paul's position.
Asked whether he second-guessed himself over his decision not to run for president, Huckabee really went for it. "Republicans can't decide what they want to be when they grow up," he said, adding, "I know they want to beat Obama, but in the process, they want to tear each other up so much, they want to savage each other so much that it will be difficult to beat Obama."
"If I ran," Huckabee continued, "it would be because I wanted to bring some ideas to the race, but I realize that will not be the focus. It is how mean can a person be.
"I don't want to savage Barack Obama," he said, later adding, "I think he's a decent, patriotic American. He loves america different than me, but I don't doubt he loves America."
It should be noted that Huckabee wasn't always on such a high road where President Obama is concerned. I guess it's easier to be nice from the sidelines.
Here's the clip, from Fox News Sunday:
Have a tip we should know? [email protected]